Furniture has evolved and changed with the times. Some styles have remained over the years while others have changed drastically or become obsolete. Others are entirely new and unprecedented. Today, designers are the main actors in creating these new designs or new interpretations or trends. In Portugal, the beginning of Design happened with the architects. They were the ones who made the Design. The paradigm changed with the opening of design schools, and a new perspective on creativity emerged.
With a degree in Design from the Universidade de Belas Artes do Porto, Pedro Teixeira is one of those young designers belonging to the first wave of young Portuguese designers who gained expression in the international market. It was with his father, an art enthusiast, that his passion began at the age of four, showing him a wide range of everyday artistic expressions.
Flumen interior Living Room, By Pedro Teixeira

And as creative director of furniture brands such as Tailor with the "Pyramiden" collection or Womb and the "The beginning of everything" collection, he confirmed this was his path. With Alma de Luce and Amália Home Collection Exploring the senses through everyday materials, such as wood or fabrics used in surprising patterns, shapes and textures in pieces of furniture, became his trademark.
In this interview, Pedro Teixeira explains how he got into the design world, what he thinks about the form of Design, his ambitions for the future and tips for young designers and architects.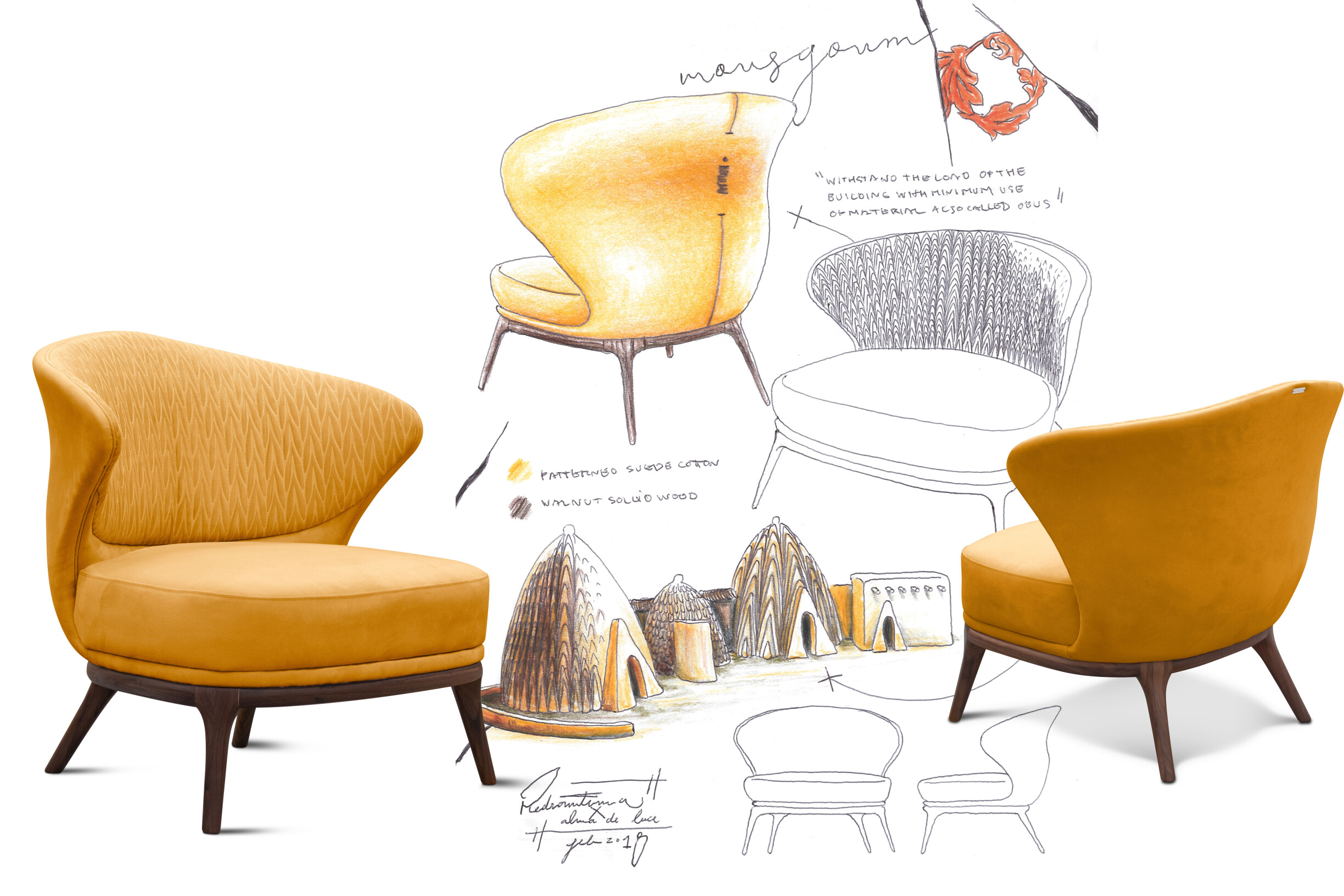 Mousgoum Armchair, Alma de Luce By Pedro Teixeira

Helena Costa: What determined your passion for Design? Tell us about when you decided this is the way to go.
Pedro Teixeira:  As a result of the education passed on to me, I cultivated a passion for designing. Early on, I felt pretty fascinated by the design theme, believing that the range of action in terms of projection is infinite. Design is present everywhere, all the time, because Design surrounds us in everything.
Although at a precocious moment, before entering higher education, I considered architecture, which is also an area that fascinates me.
As soon as I chose the Design, I realized it was one of the best choices I could have made.
 Cinnabar Armchair, Alma de Luce By Pedro Teixeira

HC: How would you describe your work?
PT: My work has undergone many changes and matured over time. Over the years, my intervention in the business fabric, namely in the furniture sector, has been full of work because I have already collaborated with many brands: a particularity that allowed me to gather different experiences, concepts, and market philosophies.
It adds this particularity to the fact that I always tried to operate at different levels, from commercial to premium. That helped me to define a specific chameleonic style.
I would say that I like to operate in both democratic and personalized design universes. Because, In both, I can get the pleasure of developing and putting into practice the ideas that I have and are emerging, taking into account the goals of brands and their markets.
Flumen interior Bedroom, By Pedro Teixeira

HC: How would you describe your influences?
PT: As for influences, I have always followed an aesthetic based on natural forms of the animal world and nature itself. And for sure, I have always paid attention to the work done by highly pioneering creatives such as Carlo Scarpa, Gianfranco Frattini, Charlotte Perriand, Jean Marie Massaud, Hans J. Wegner, and Nanna Ditzel.
Much for the irreverence and robustness, they managed to surprise with details that reveal how the complexity of an idea can be through Design.
These innovative ideas developed in times when the need to make something imagined into something materialized appears to ensure that several people could enjoy this same idea in their daily lives.
Vervoort Mechler Grand Armchair By Pedro Teixeira

HC: What materials do you like to work with?
PT: This is a very relative question because I like all the available materials on the market. I can justify this statement with the collaborations I've been doing with different brands that assume different styles. But I don't hide that although I dominate the work in metallurgy, I am most fascinated by wood and the artisanal carpentry work I have seen in it.
Maxalto Amattera Proposal By Pedro Teixeira

HC: Can you describe your interior design signature or style and what is unique about it?
PT:I don't think that, at this moment, any creative can say with certainty that the content of their work is unique because, as Dali used to say, the 'best artist is a beautiful copycat!'. I don't believe in copying, as the word implies, but in the influence, harvest, and assembly of the baggage acquired over time. This information allows us to be more assertive when solving concepts and creating proposals that I can consider in a highly fierce market. The power of decision is what marks our style as creatives. I can't help but admit that there is a rhythm that is the mark we put on the creations we idealize. This repeated rhythm is what we begin to feel as the basis of our work after some time. It's our DNA.
In my case, I have always worked on many concepts that I have evolved. But the one that stands out the most for me and with which I identified the most over time are those of the Italian coastal slope.
I have always searched for the juxtaposition of materials, controversial environments and exceptional results because the idea has always fascinated me more than the result itself. For this reason, I fully identify with concepts such as those of Boffil or Cottis. Lately, I'm starting to feel more and more attracted to the Brazilian side, which has been surprising in my opinion and with which I also fully identify.
Flumen Interior Library Room, By Pedro Teixeira

HC: What are your favourite pieces to date, and why?
PT: A little for all the reasons and more! Wegner Ox Chair By Hans J. Wegner , 1960
HC: What are you working on at the moment?
PT: As a full-time model, I work as Head of Operations for a furniture manufacturing company. Currently, I work on brand creation and initiation in a national project to be launched soon. Alongside this is the participation as an External Designer for a large multinational group in work mainly carried out remotely. Finally, I perform and sign small amounts of projections and model developments exclusive for some brands with whom I occasionally work in Portugal or Europe.
Beaumont Seydoux High Back Armchair Prototype, By Pedro Teixeira Designer

HC: What's the strangest request you've gotten for a piece? Or tell us something unusual that happened in your carrier?
PT: Over the years, I have faced some unusual situations. But I would say that the most frustrating thing I was involved in was the development of a sofa for a leading Danish brand. It intended to create an extremely innovative sofa bed. I remember the case of a brand with a customer who wanted a personalized catalogue model adjusted to another typology and wanted to see this model added to the catalogue under his name. At first, everything seemed to go smoothly. However, after several developments and market investigations, the brand insisted on obtaining a model with less depth than it was possible to execute since this same depth was smaller than the sofa bed mechanism itself. This case lasted more than a year, during which we realized several tests, we did four prototypes, two persons of brand representatives came to Portugal, and several purchases of different mechanisms.
We spend a lot of energy on this process. I remember it as a less good but no less enriching experience than many others. I committed myself and tried to solve it with the same dedication. We resolved the case when they had dispelled all possibilities of the doubt remains.
Ghadames Armchair, Alma de Luce By Pedro Teixeira
HC: What would you create if you had no limits (money, resources)?
PT: Earlier in my career, I took an elaborate path in a medium-high or high-end sector because I thought I could explore my Design more and better! Today I believe I would explore contrary ideas based on a democratic design model. With highly refined and industrialized models, this Design reaches more public. Nowadays, I am ambitious and would like to make the Design more inclusive and thought out for everyone without exception, this being, on a personal level, a future challenge.
Longjing Chair, Alma de Luce By Pedro Teixeira

HC: What do you see for the future of Design?
PT: The profound changes in the consumption of goods and services and the consequent development of the industry brought the need to resort to Design as a way of incorporating added value into products by reinforcing their differentiation in competitive environments. The appeal to the valence of Design nowadays, given the growing scarcity of trained human resources, generated the demand for qualified technicians to transform desire into Design through the medium of projection and computerization.
Due to the natural evolution of time, something that will present us with the result that is increasingly focused on conceptual research and its conformation to the production processes available in each business sector. I believe, therefore, that Design will, in the future, be an increasingly predominant subject around us.
 Mudhif Chair, Alma de Luce By Pedro Teixeira
HC: What advice do you have for young designers reading this interview?
PT: First, it is essential to mention that nothing is conquered without a lot of resilience. I think the design activity is more respected today than it was ten years ago. However, I also admit that there is still a long way to go. In Portugal, the business fabric is still mostly familiar and conservative. Attributes that do not help innovative and modernized projects that we all need to enhance Made in Portugal.
That said, I would advise any young designer to pay attention to all operations performed on the shop floor. This place is where everything happens and where we learn more. We must not stigmatize anything or anyone because everyone has something to teach. As creative agents, we count on the production team and only have something to learn from them. Also, Behind the scenes, when we are idealizing, developing or executing, I believe we must know how to incorporate two personas necessary to offer real added value to the market. One is our persona, and the other is the client persona with all the pretensions he hopes to get from us.