The Power of First Impressions
The foyer serves as the first point of contact, leaving an immediate and lasting impression on guests. Architects and designers have the unique ability to shape these experiences through thoughtful and intentional design choices. One of the most effective ways to create a memorable foyer is through a bold entrance. An eye-catching feature like a work of art can instantly captivate visitors and set the tone for the rest of the space. By incorporating unique and visually appealing elements into their foyer design, architects and designers can create a sense of grandeur and intrigue. In this article, we will present four foyer inspirations created by Alma de Luce, featuring various styles that cater to the diverse preferences of your clients. The foyer, also known as the entrance hall, sets the tone for the entire project and is an important space to make a lasting impression.
Glam Interior Design by Alma de Luce
Glam interior design revolves around sophisticated neutral colors like white, ivory, cream, gray, and black. This design style is highly versatile, not limited to a specific era. While it's characterized by iconic features, it can be combined with various elements to create unique glam variations. 
In our foyer inspiration below, we show you a Glam Interior Design style renowned for its lavishness, sophistication, and sense of drama. It embraces opulent materials, rich textures, and luxurious finishes to create a space that exudes elegance and glamour. With its emphasis on bold colors, sumptuous fabrics, and statement pieces, Glam Interior Design brings a sense of indulgence and allure.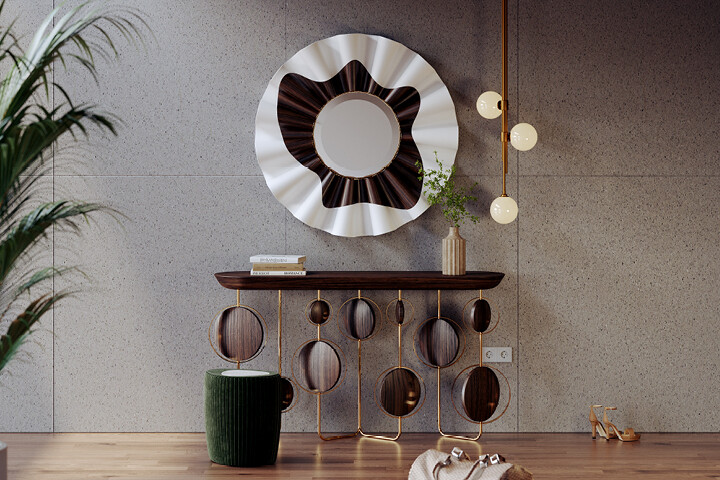 The Fairy Circle Console draws inspiration from the mystical allure of fairy circles found in nature. Its circular design, meticulously crafted from high-quality materials, captures the essence of elegance and sophistication. The console features a lustrous polished finish, reflecting light and adding a touch of glamour to any interior setting. With its sleek lines and graceful curves, the Fairy Circle Console becomes the focal point, commanding attention and admiration.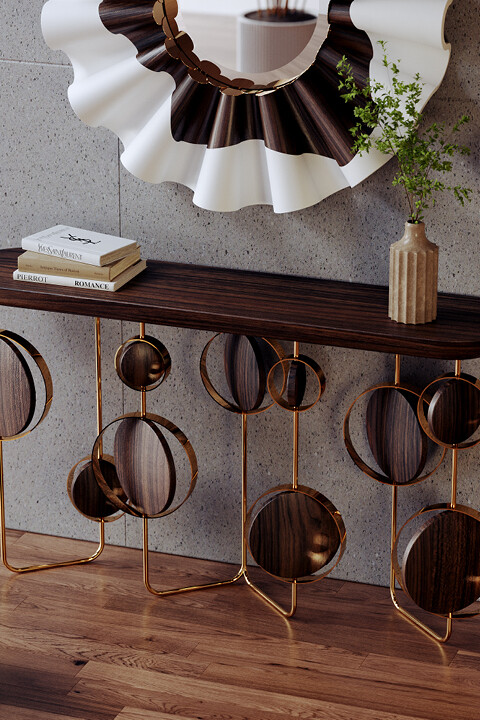 The Dom Sebastião Mirror is inspired by the opulence of royal palaces, this mirror exudes regal charm and timeless beauty. Its ornate frame, intricately handcrafted with attention to detail, showcases Alma de Luce's commitment to exceptional craftsmanship. The mirror's reflective surface enhances the play of light in the room, creating a sense of depth and adding a touch of glamour. With its commanding presence and exquisite design, the Dom Sebastião Mirror elevates any space to new heights of sophistication.
Modern Organic Style
The modern organic style embraces the beauty of nature and incorporates it into contemporary design. It celebrates the use of natural materials, earthy color palettes, and organic forms, creating a sense of harmony and tranquility in interior spaces. This style emphasizes the connection between indoor and outdoor environments, bringing the serenity of nature into the foyer. By combining natural elements with a modern and elegant design, the modern organic style creates a unique and inviting atmosphere.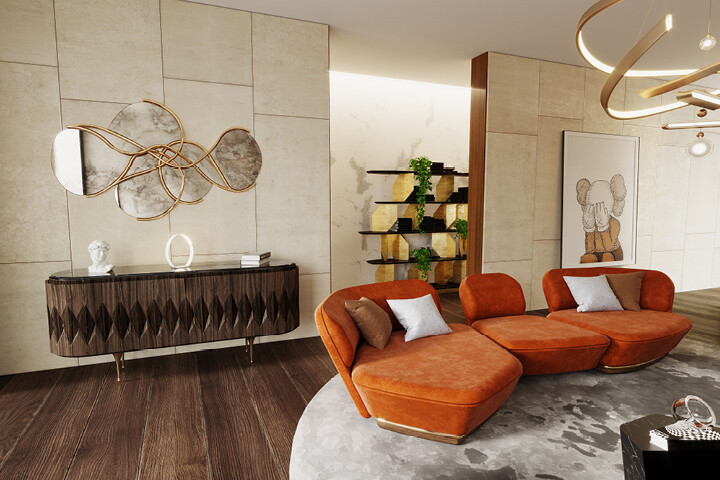 Meghalaya mirror, inspired by the mesmerizing landscapes of the Meghalaya region of India. This mirror captures the essence of nature's beauty, featuring an intricately crafted frame with organic patterns and textures reminiscent of lush forests and flowing rivers. The mirror's elegant, minimalist design allows it to blend seamlessly into any entryway space, reflecting light and creating a sense of openness. The Meghalaya mirror becomes a focal point, adding depth and visual interest to the foyer while infusing a touch of natural elegance.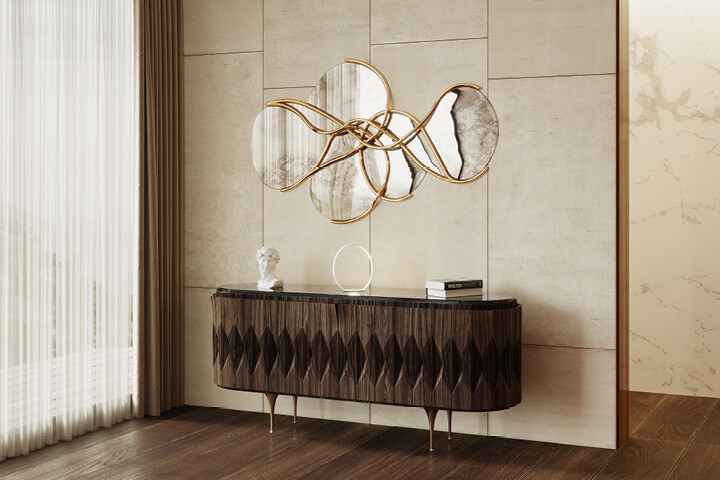 The Harlequin sideboard is a masterpiece of craftsmanship and contemporary design. This sideboard features a geometric pattern on its doors, that can reminiscent us of nature's intricate patterns. The combination of luxurious wood finishes and metal details adds a modern touch to the organic aesthetic in the foyer. With ample storage space and a functional design, the Harlequin sideboard not only enhances the visual appeal of the foyer, but also provides practicality and functionality.
Contemporary interior design
Alma de Luce presents the exquisite combination of the Jabu Console and the Darvaza Mirror, two furniture pieces that redefine contemporary interior design. With their elegant lines, luxurious materials and innovative design elements, these Alma de Luce creations are set to make a statement in any contemporary space.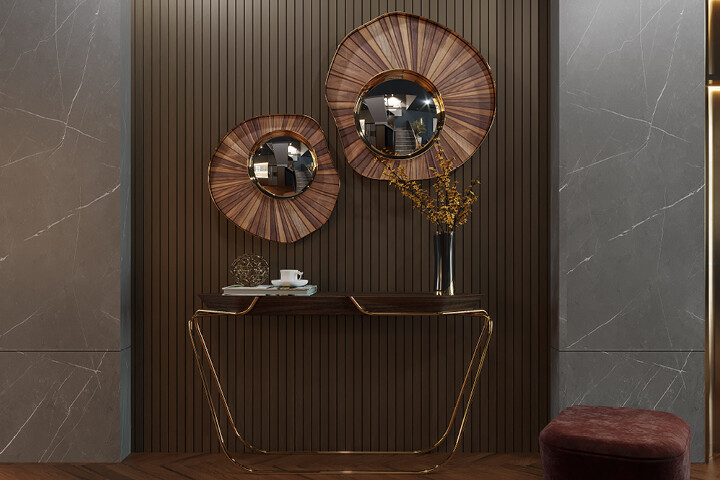 Jabu Console have a clean and minimalist design enhanced by the use of high-quality materials, such as polished metal and sleek wood finishes. The console's geometric silhouette exudes elegance and visual appeal. Whether placed in an entryway, living room, or dining area, the Jabu Console effortlessly combines style and functionality to elevate the overall contemporary interior design.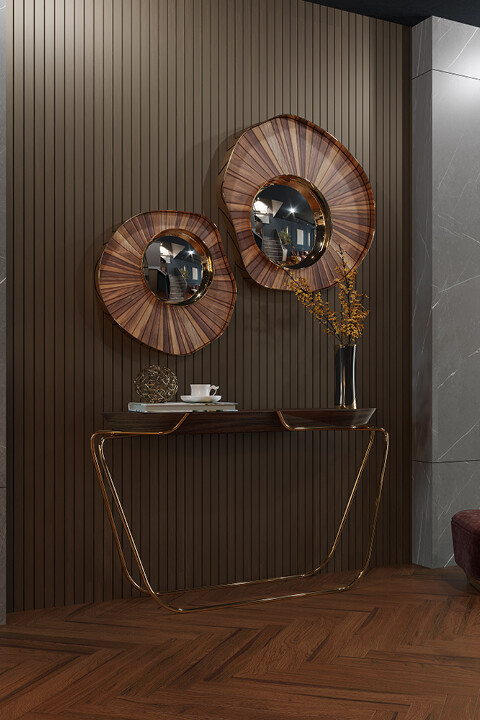 Inspired by the crater of Darvaza, the Darvaza Mirror's frame pays homage to this natural wonder. Every aspect of The Darvaza Mirror is meticulously handcrafted, from the intricate woodwork to the piece-by-piece application of the metal frame. The frame is made of metal coated with a soft gold color in a matte finish, adding a touch of opulence to the design. The solid walnut wood surrounding the mirror further enhances its elegance and provides a rich contrast to the metal frame. The mirror itself features a bronze finish, adding depth and sophistication to the overall composition.
Modern Classic Style
The Modern Classic style is a perfect fusion of the contemporary and the traditional, creating a sophisticated and elegant environment. This style of interior design is characterized by clean lines, simple shapes, and a soft, neutral color palette combined with classic, timeless elements.
In the realm of foyer design, the Anta da Arca Console and Dom Sebastião Mirror by Alma de Luce emerge as timeless pieces that seamlessly fuse modern and classic elements. This exquisite combination showcases the perfect balance between contemporary aesthetics and the allure of traditional design, making a striking statement in any foyer space.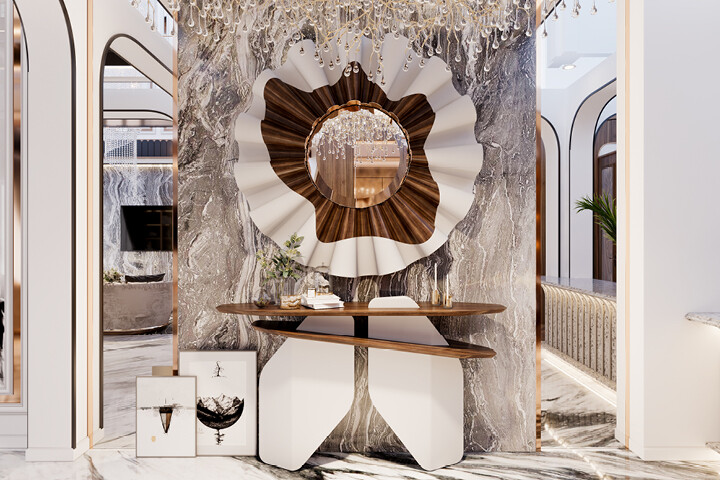 The Anta da Arca Console is a masterpiece that captures the essence of modern classic design. With its clean lines, graceful curves, and meticulous craftsmanship, this console exudes elegance and sophistication. Its premium materials, such as rich woods and luxurious finishes, create a sense of opulence and refinement. The console's practicality is enhanced by its ample storage space, allowing for both functionality and style in the foyer.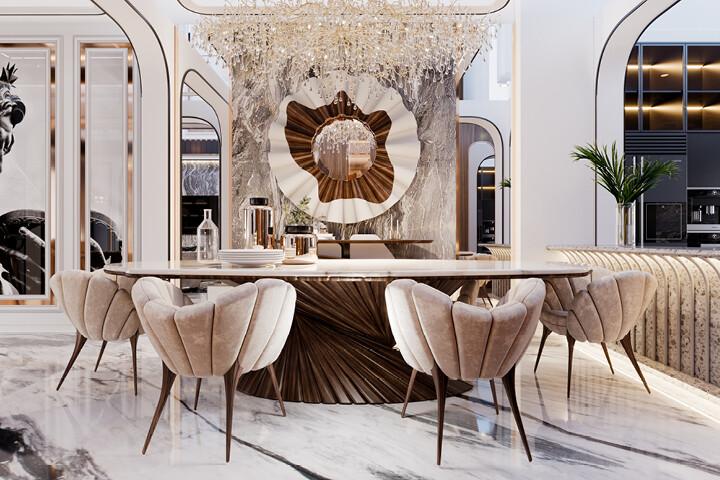 The versatility of the Dom Sebastiao Mirror lies in its ability to adapt to various design styles. Its ornate frame and intricate details exude elegance and sophistication, enhancing the overall visual impact of the entrance hall. The mirror's reflective surface creates an illusion of depth and amplifies light, making the space appear more spacious and inviting.
We invite you to explore the enchanting "Entrances Inspiration Book" by Alma de Luce. Prepare to be inspired and surprised as you delve into the pages of this extraordinary book. Alma de Luce's "Entrances Inspiration Book" showcases a curated foyer selection of luxurious and sophisticated that will ignite your imagination and elevate your design projects to new heights of elegance and irreverence. Whether you're an interior designer, architect, or design enthusiast, this book is a treasure trove of inspiration that will breathe life into your creative visions.