When the cold of January is the key to luxurious, on-trend interiors
Winter is in full swing, but luckily, Alma de Luce's Designers know how to handle it to create fabulous interiors. 
Believe it or not, cold conditions create cozy moments. Comfortable sofas, and luxury coffee tables, besides the different types of stools, rugs, and mirrors, there are so many pieces to play around with. 
The key was to create spaces that are as fashionable as they are functional, with pieces that feel cozy and elegant, which warmly use red that harmonizes with white and gold tones to keep you comfy. 
Surprise you or your clients with pieces of art that share memories through furniture:
1. Al-Hijr Modular Sofa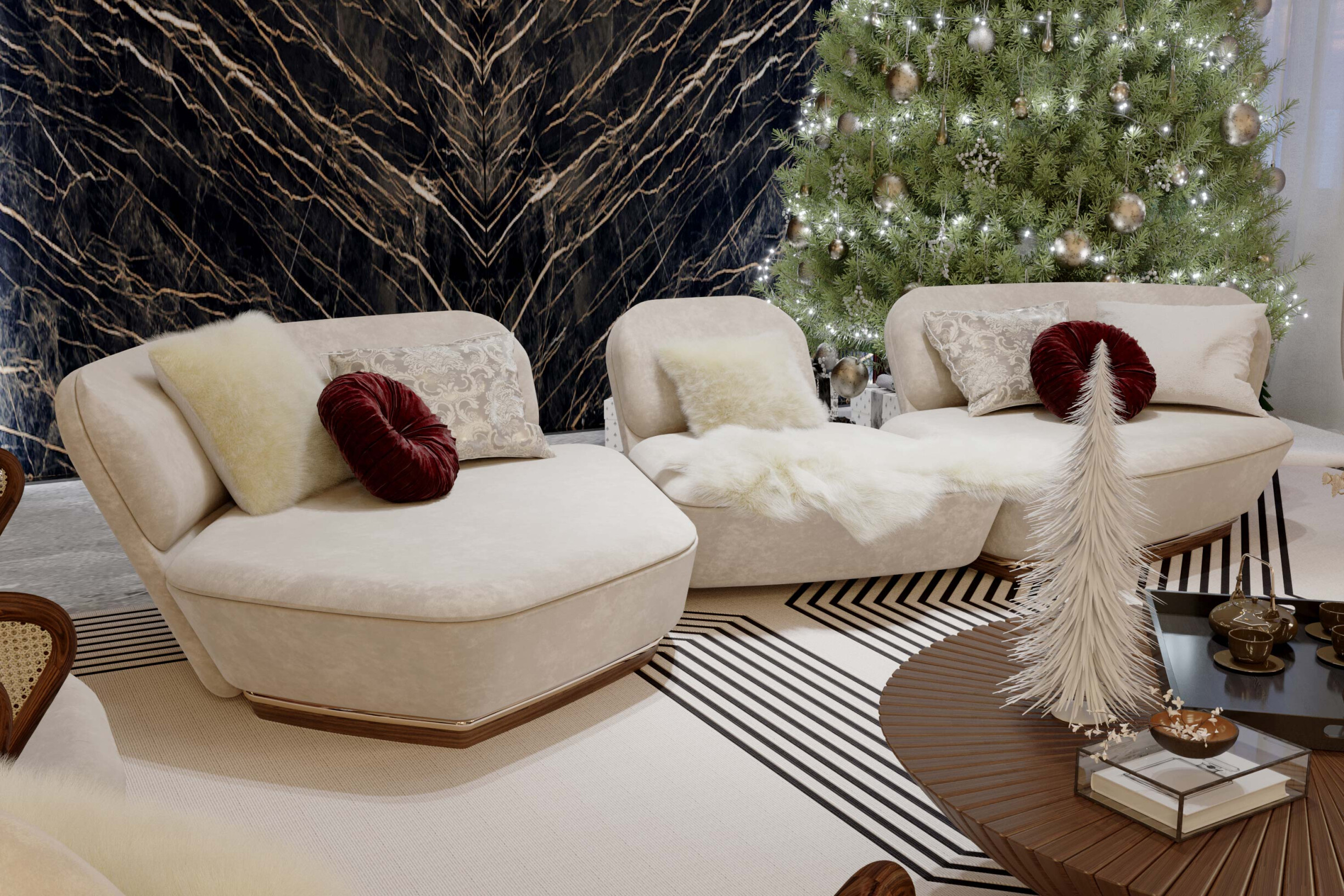 Making this Saudi Arabian heritage known, Alma de Luce presents this sofa that transforms any space into a cozy and familiar environment, infusing a cozy feeling of home comfort.

An attractive advantage of the Al-Hijr Modular Sofa is mixing different fabrics on the same sofa. We have traditional sofa premises with the same fabric in the upholstery part. As we understand, a modular sofa is a bold piece that recognises personality and distinction. A modular sofa can mean a combination of different colours, textures, fabrics, and materials in each part of the module.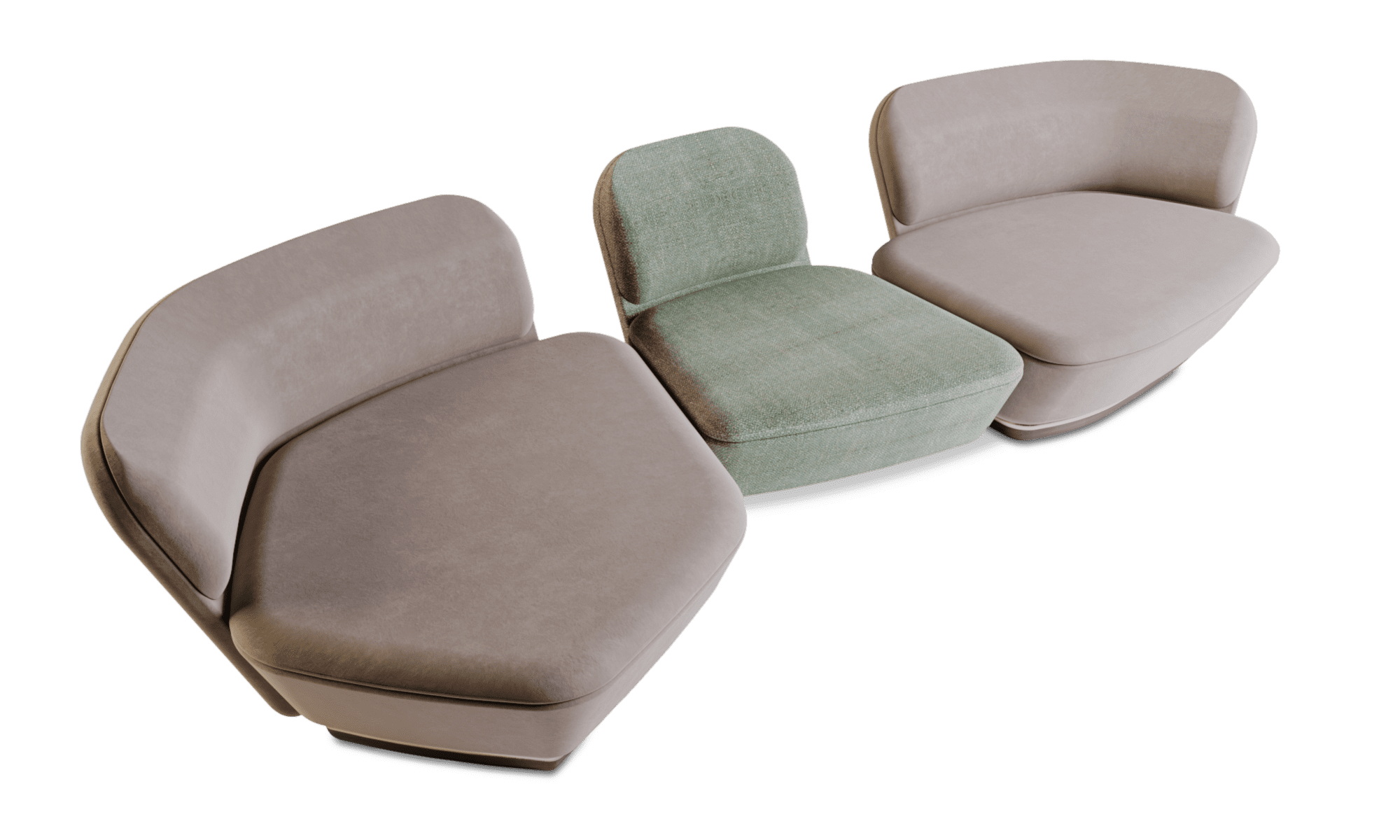 2. Metamorphosis Armchair, New 2023
The Metamorphosis armchair, with a unique round shape, reminds us of beautiful butterflies. These are the emblematic symbol of the personal transformation that ALMA de LUCE pays tribute to by inspiring us with the beauty and simplicity of the armchair.
This new member of the Metamorphosis family exudes a mid-century vibe and luxury design, with the rattan back wrapped in walnut wood crafted by incredible craftsmen.
The upholstery possibilities are endless, with fabrics and leathers that can be combined with the two available kinds of wood, walnut or ash. Sleek and enveloping, the Metamorphosis armchair can be used alone or in pairs, in domestic settings and in contract decor applications to provide impeccable comfort and style.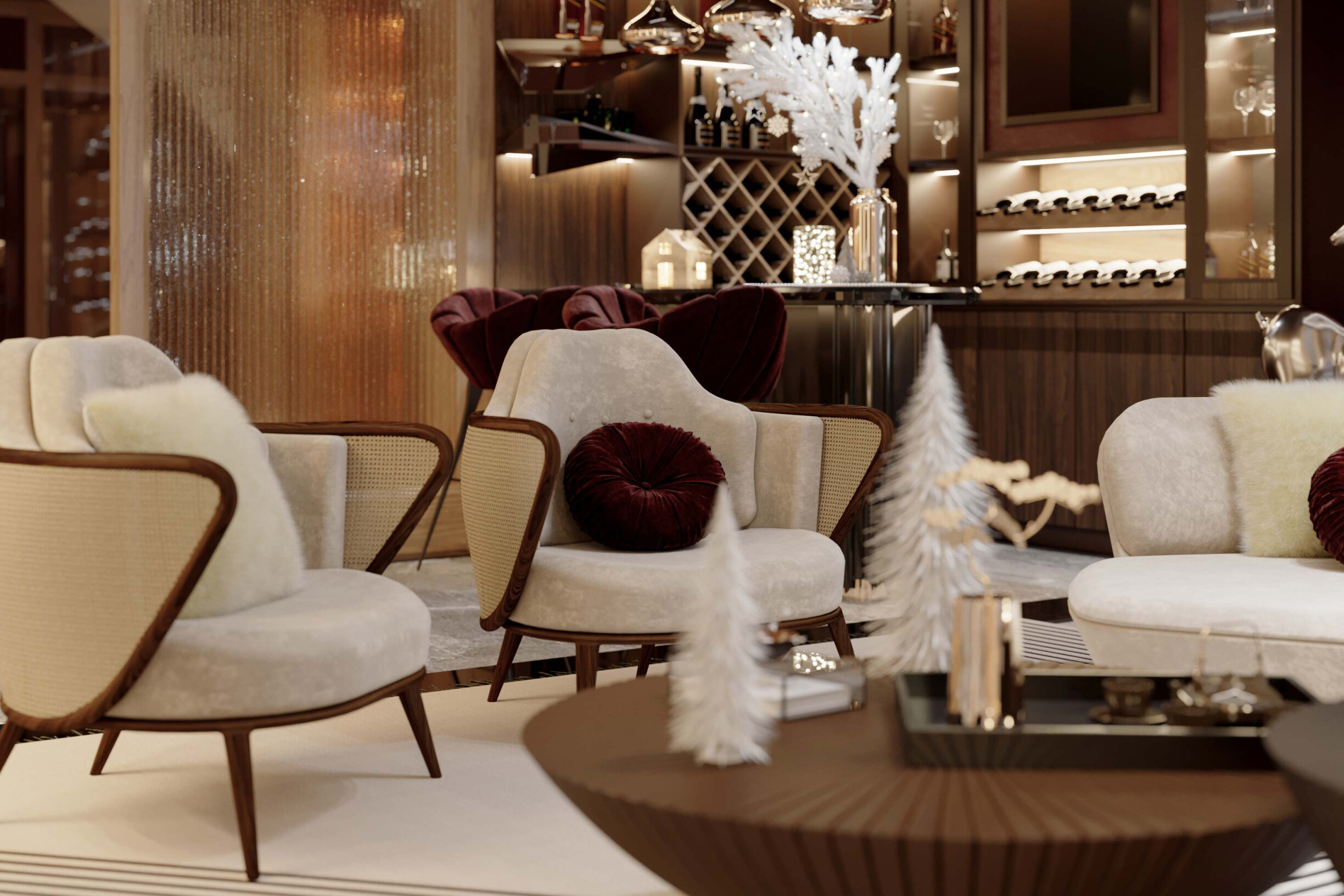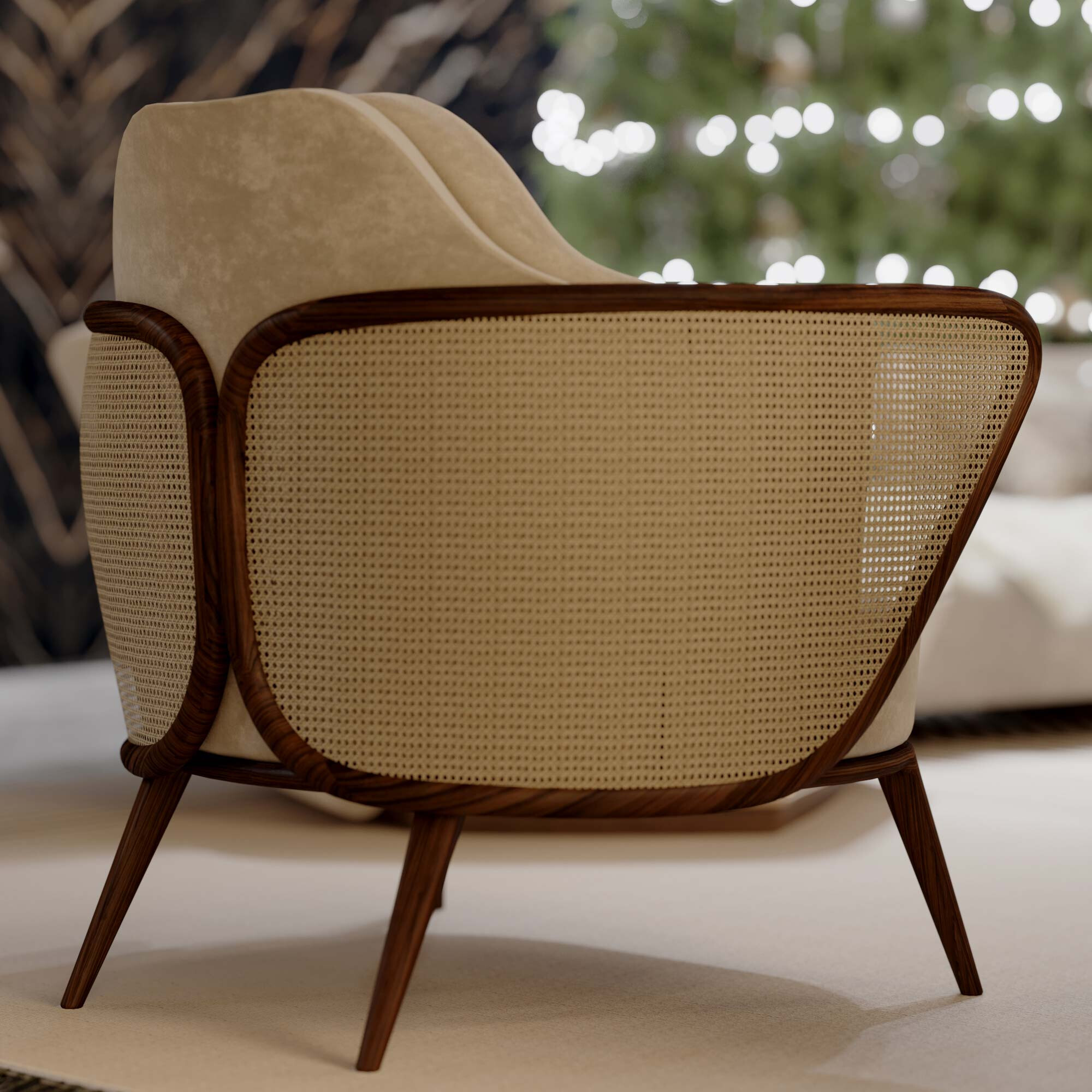 3. Goathi Coffee Table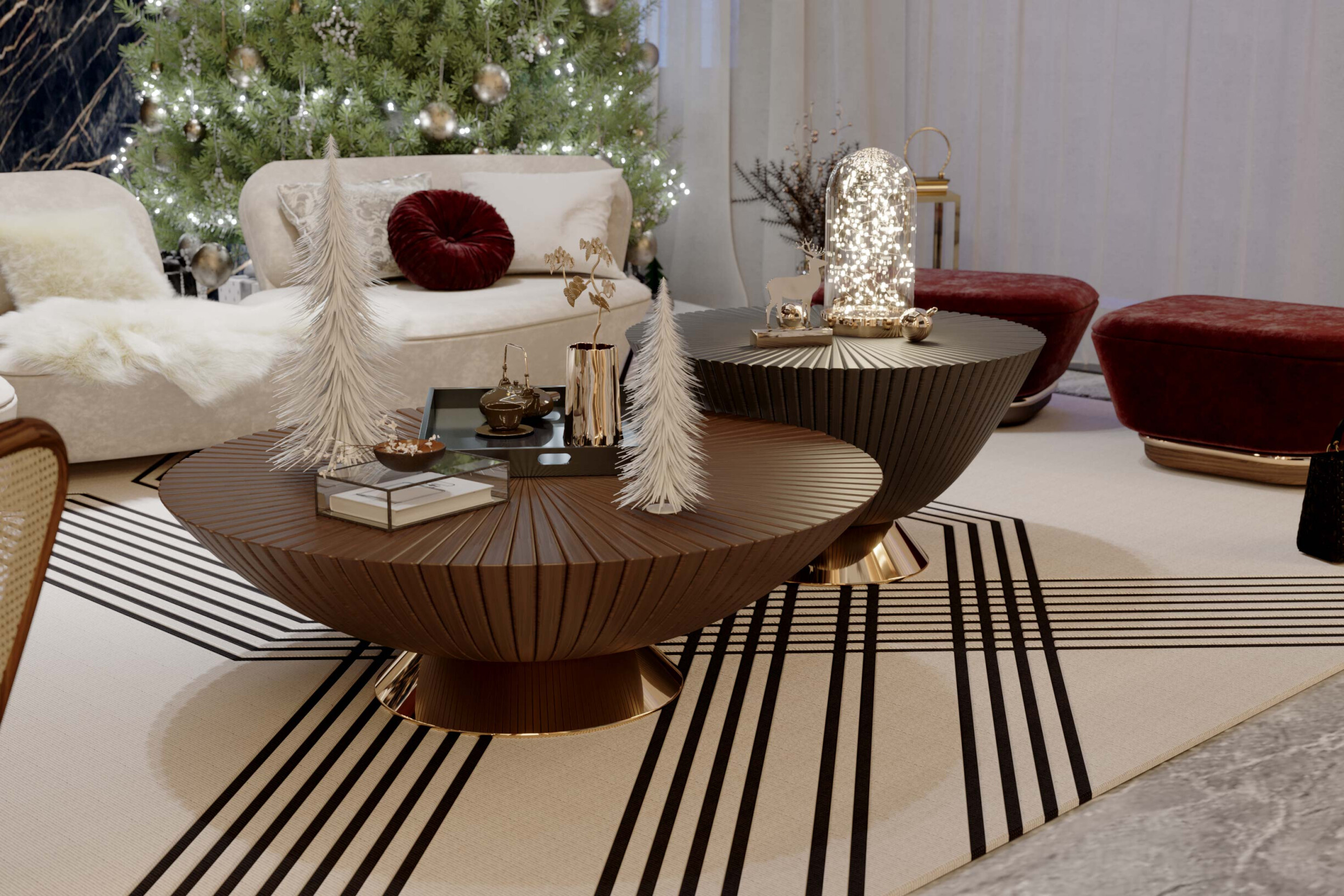 Because of their extensive history in the Arctic, The Sami people have created a social and cultural community, reflected in their architecture well integrated into nature and climate. With the GOATHI pieces, the human genius is celebrated by ALMA de LUCE, for the respect and appreciation of nature in its architecture, so that it inspires us in this world heritage.
Goathi is a wooden coffee table that was brilliantly crafted, inspired in the primitive Goathi buildings made of wood. The Sami people use materials and local knowledge to survive in the most challenging conditions, almost impossible without this native building.
This coffee table is a functional piece that incorporates that timeless appeal behind the wood carving, elegantly designed in simple, clean lines. Available in a set of two coffee tables and an elegant and highly decorative stool that gives an attractive presence to any environment. This duality between power and refinement definitely brings a new contemporary verve into interior design.
4. Tecelã Rug, New 2023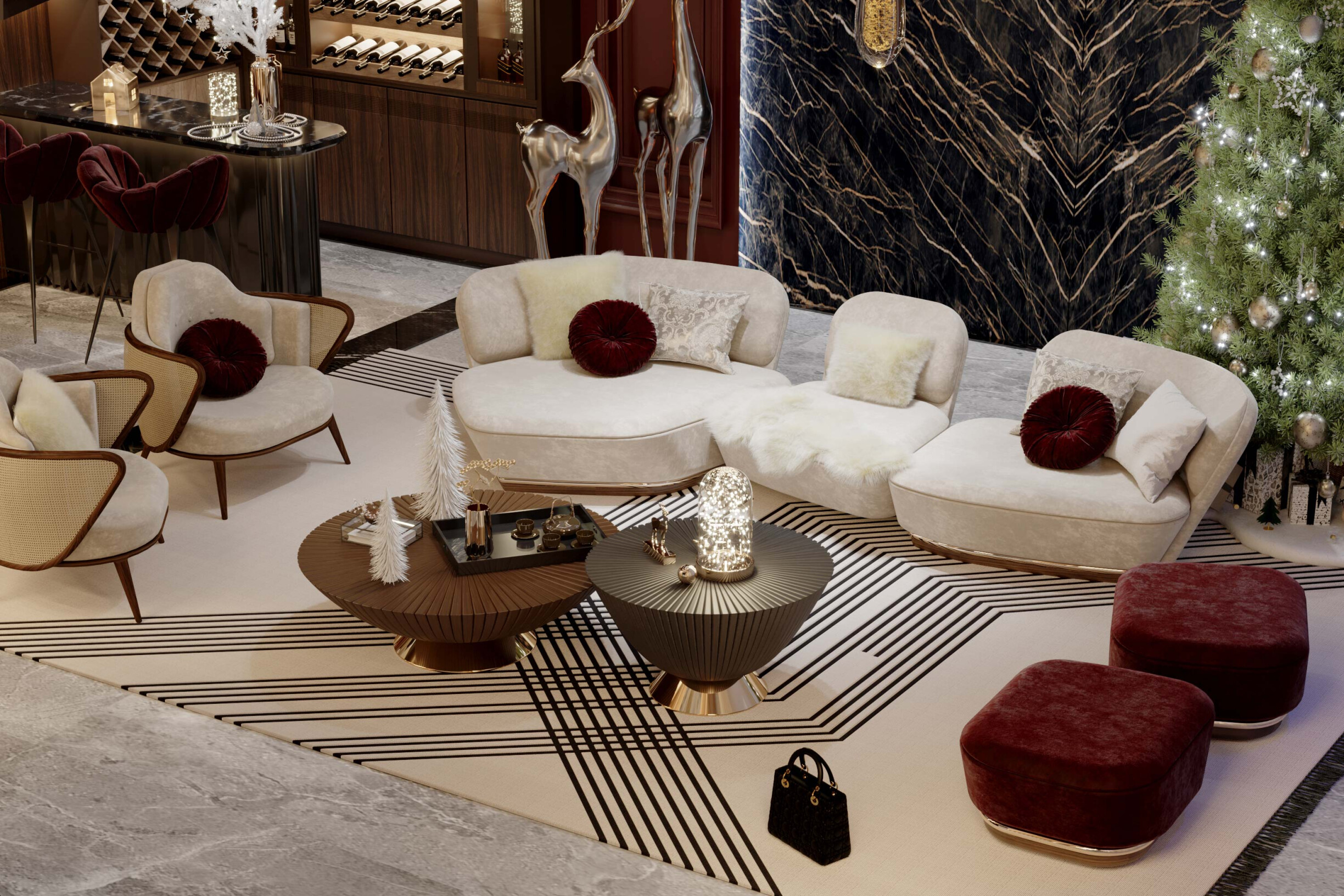 ALMA de LUCE develops the TECELÃ rug in homage thanks to the Portuguese women of the mountains, who worked hard at the looms for many years so that life could go on. This rug represents the simple strength of these women, worthy ancestors of our roots, who were women of work and attachment to the family, multiplying themselves in tasks to be the life support of Portuguese families over time.
The geometric pattern on the botanical silk rug is a journey through this woman's history, marked by her unavoidable strength. The simplicity in the rug gains strength through the contrast between the geometric design of the lines and the background as a white canvas.
A handmade rug full of glamour and sophistication, with a rectangular shape and the addition of fringes, which you will certainly not be able to resist. Hand-Tufted and steeped in history, this high-quality rug is made with noble Botanical Silk material.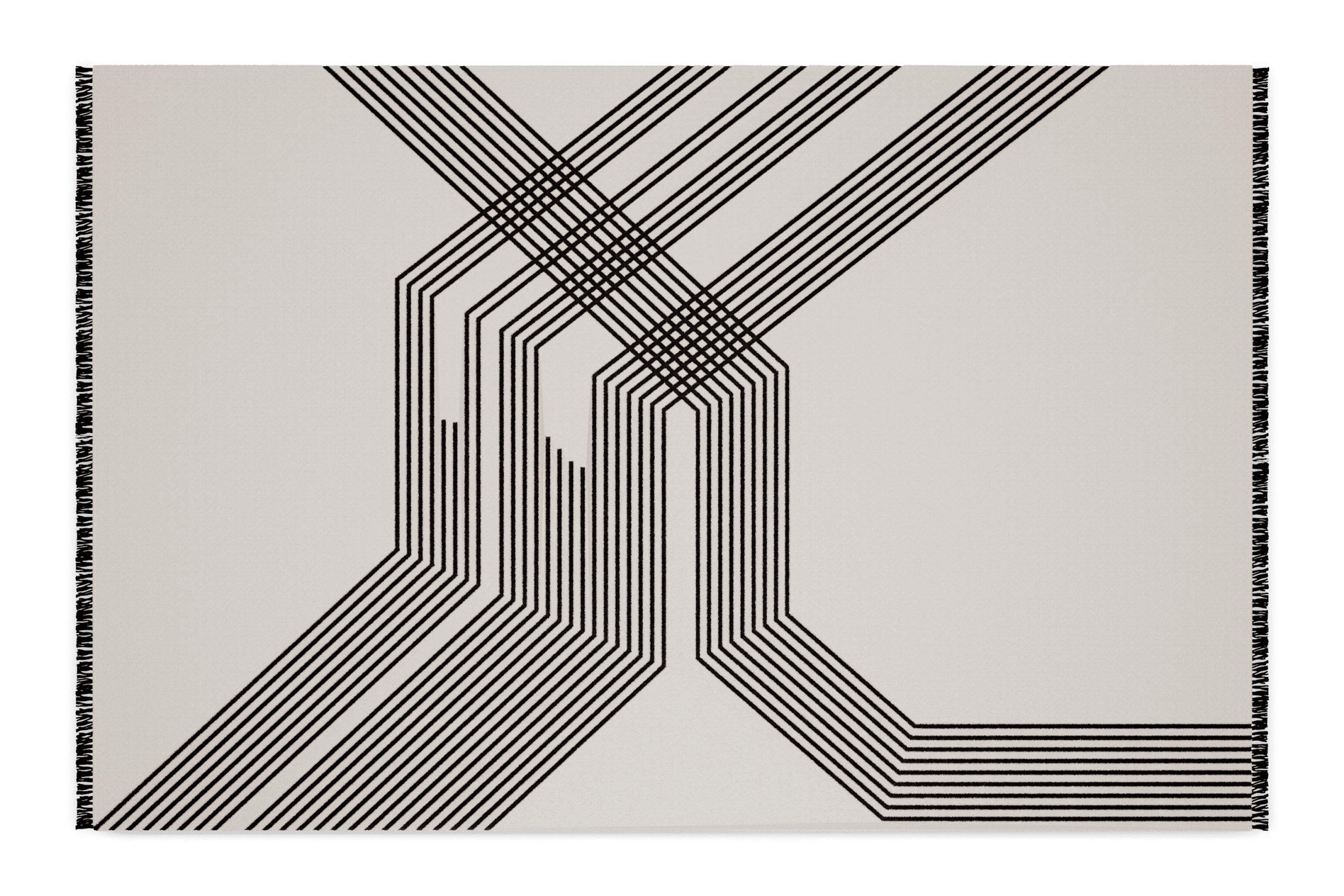 5. Amasunzu Bar Stool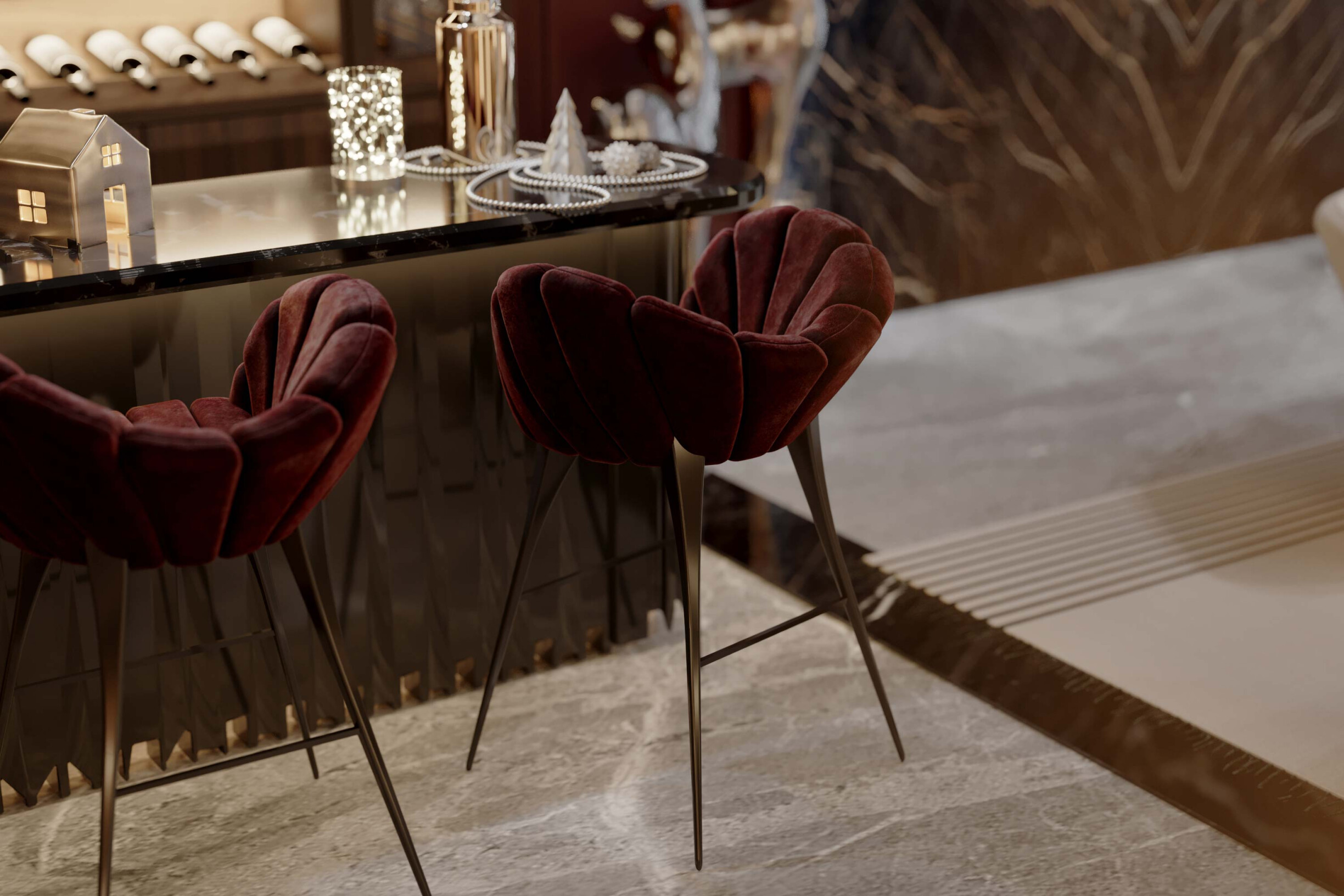 Amasunzu Bar Stool is an excellent piece to make a difference in your dining room or the perfect connection with the living room in this open space concept. With a symbiosis of a sophisticated design with comfort, this piece can give a touch of class to the interior design.
The Amasunzu traditional hairstyle is hands down one of the most creative ever. Still being worn today, it was and still is a symbol of pride in Rwanda.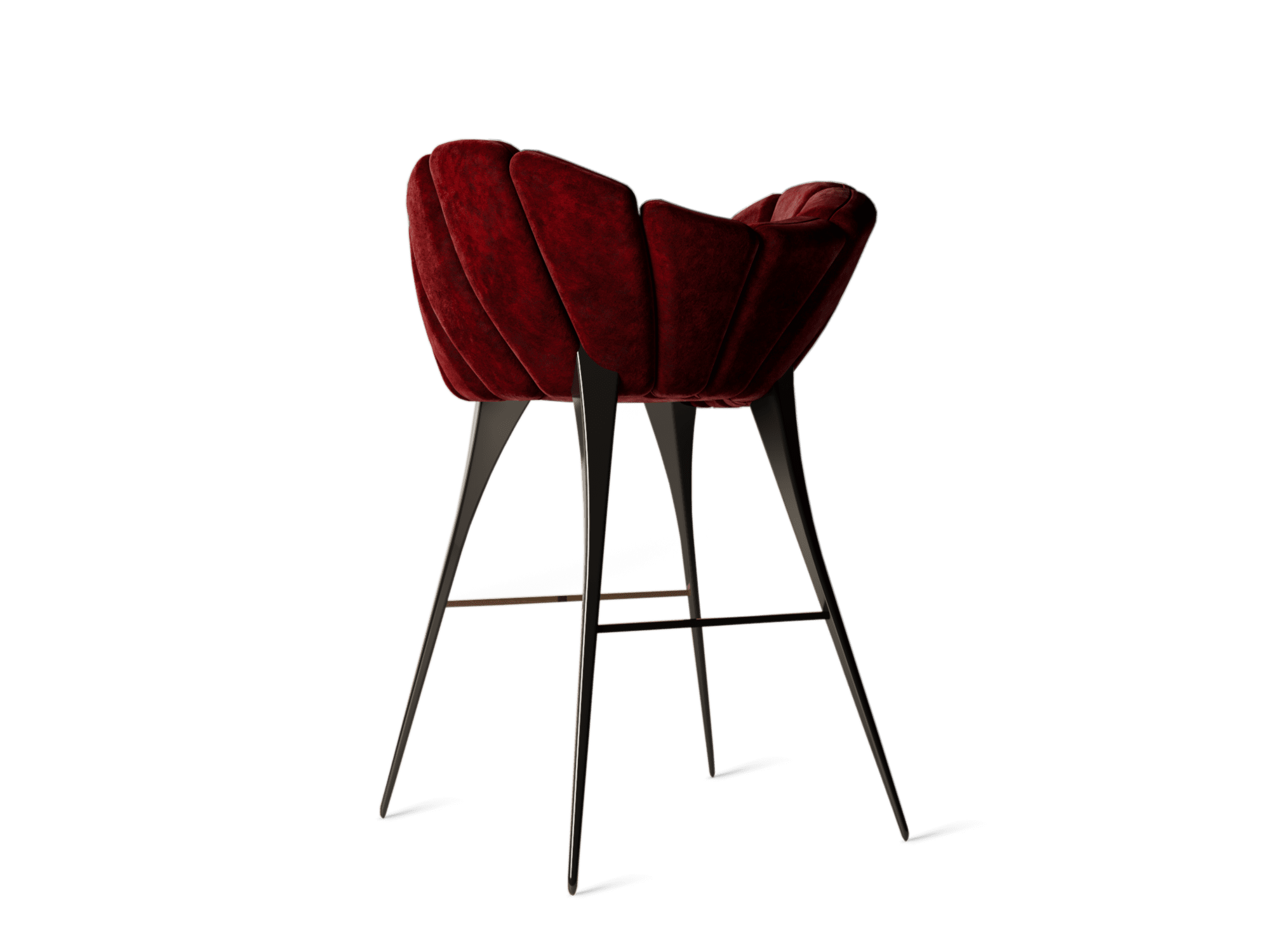 Creating the perfect living room
Whether you're looking for home decor ideas for a living room makeover or interior design ideas to boost your projects, here are a few interior inspirations that get your creative juices flowing.
These Inspirations books will catch your attention if you are a huge lover of contemporary and luxurious design styles, 
In these stylish books, ALMA de LUCE's designers share their insights and tips on Interior design Inspirations, her signature design and showcase the most gorgeous and luxurious interiors to inspire your projects or your home decor. Make any space feel larger, cultivate your own distinct style, and create spaces that tell a story with these Inspirations books.
It is more than just incredible imagery. These books provide valuable and inspirational information, be it a designer, homeowner, or someone who likes beautiful things.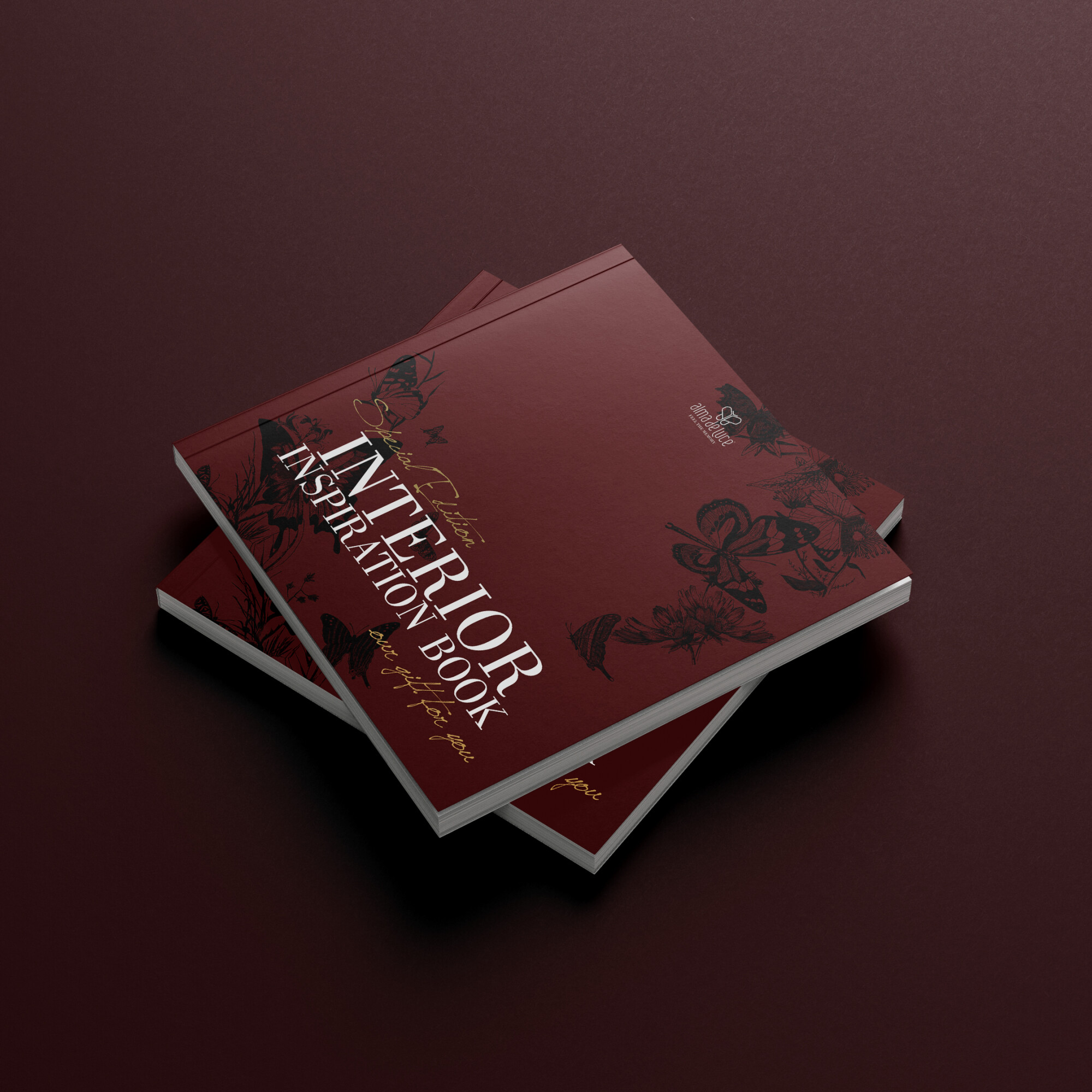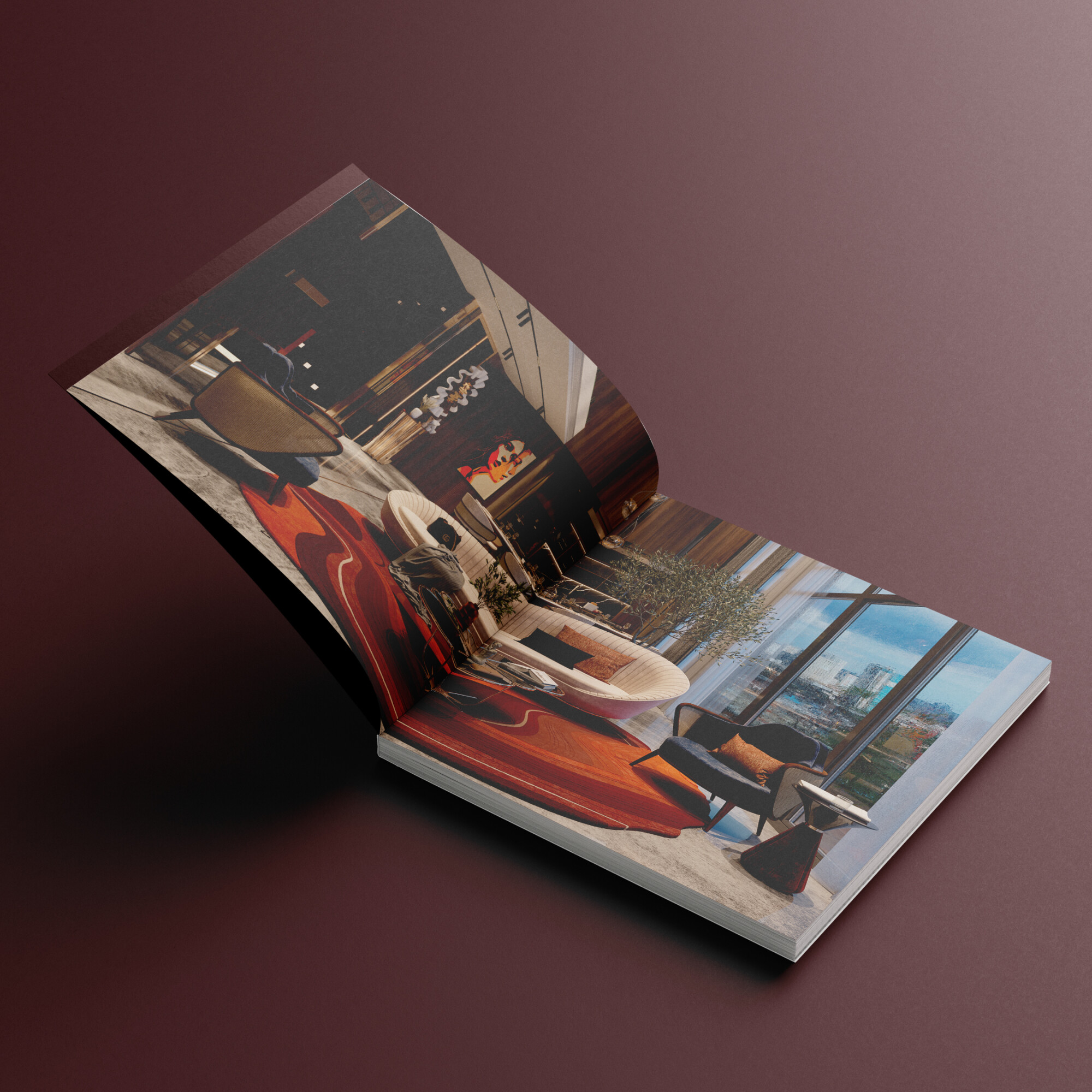 Did you like our tips? So, stay tuned to our Inspiration blog to receive more information and curiosities from the universe of architecture, interiors and construction!
You can also follow us on Instagram, Facebook and Pinterest for all our updates and news.