When a room needs a change and a new life, it's not always an option to redecorate the entire room, buy new furniture, paint the walls or replace the floor. In fact, doing all this is not always possible. But, some pieces have the power to unite all the elements of a space. These pieces, much more than decorative, give life and personality and tell a story. They have the power to boost a division without significant changes.
The living room is probably one of the places in a house where people spend the most time. Whether relaxing, socializing or enjoying family moments, this should be a functional, beautiful place where everyone feels good.
The living room decor is also essential to create the perfect place. It is not enough to have the main furniture. Some pieces, such as tables, cabinets, rugs or decorative details, make all the difference. Everything will depend on how you organize the space, the arrangement of the elements, the tones you choose and the way you combine the pieces to convey the desired environment.
Today we present some luxury items that will make your living room more elegant, sophisticated and a true "refuge of peace". Read and rock!
Five pieces that will make a difference in a living room
Are you ready to change your living room? Ready to transform your living room into a new space? Don't worry! There are five pieces you should consider to transform your living room decor.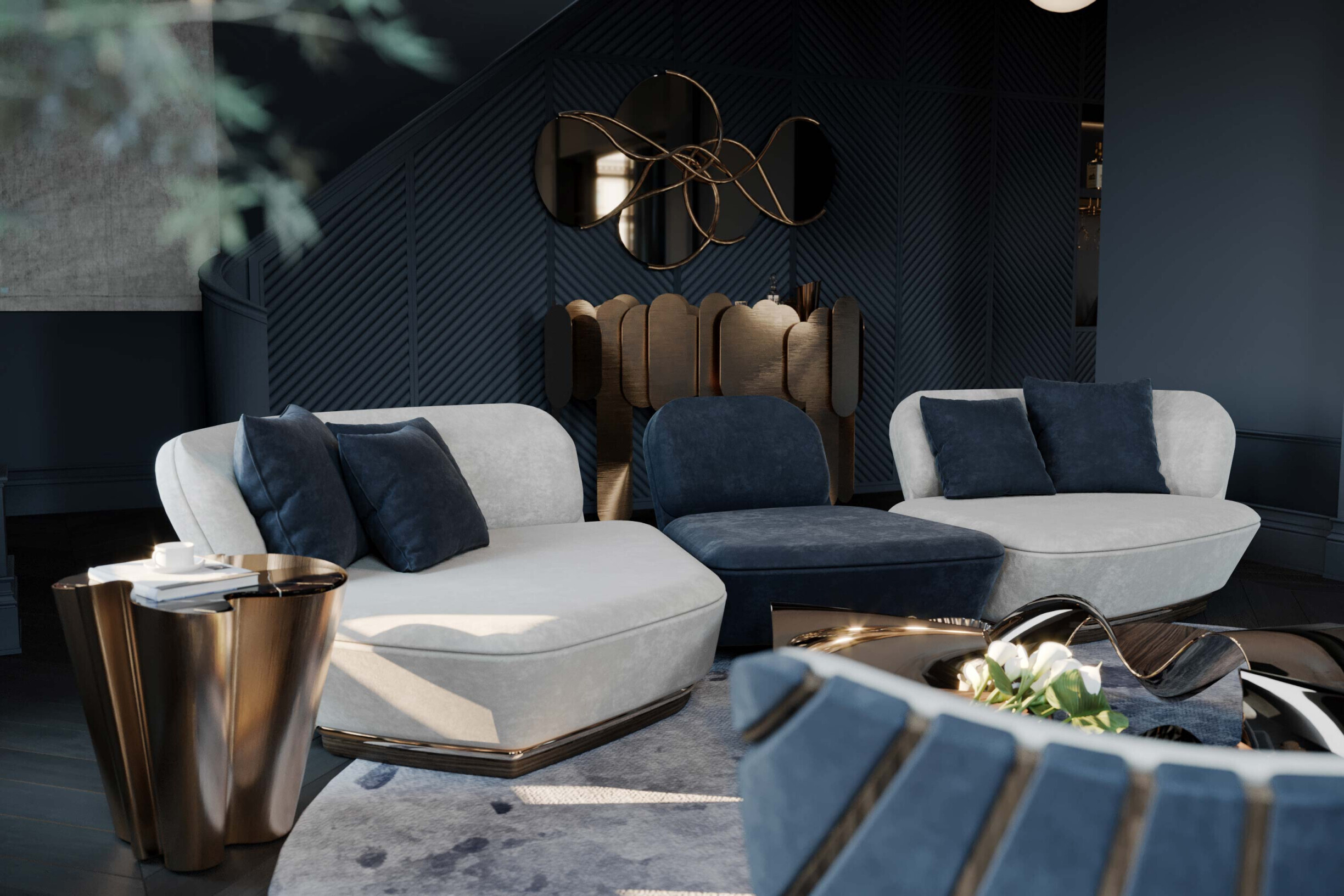 1. Sofá, the essencial one.
A sofa is one of the essential items in decorating a room, whether to adorn the space or provide comfort and rest. The coach makes all the difference in the living room, an area we dedicate to leisure activities, resting and/or receiving friends and family. Sometimes changing the sofa makes all the difference and can completely transform the decor style and ambience.
This piece draws a lot of attention to the decoration, so do not neglect its importance. Consider the entire environment where it will be inserted to ensure a harmonious decoration.
From a contemporary to a more retro style, going through classic options, the first tip when choosing a sofa is to think about its size: avoid choosing a sofa that is larger or smaller than the space in which it will be placed. Also, think about the colour and materials.
Al-hijr sofas from ALMA de LUCE's collection are a perfect choice! Inspired by the shapes of the monumental tombs carved in stone from the Nabataean culture, they transform any space into a warm and familiar environment, infusing a feeling of comfort in the room.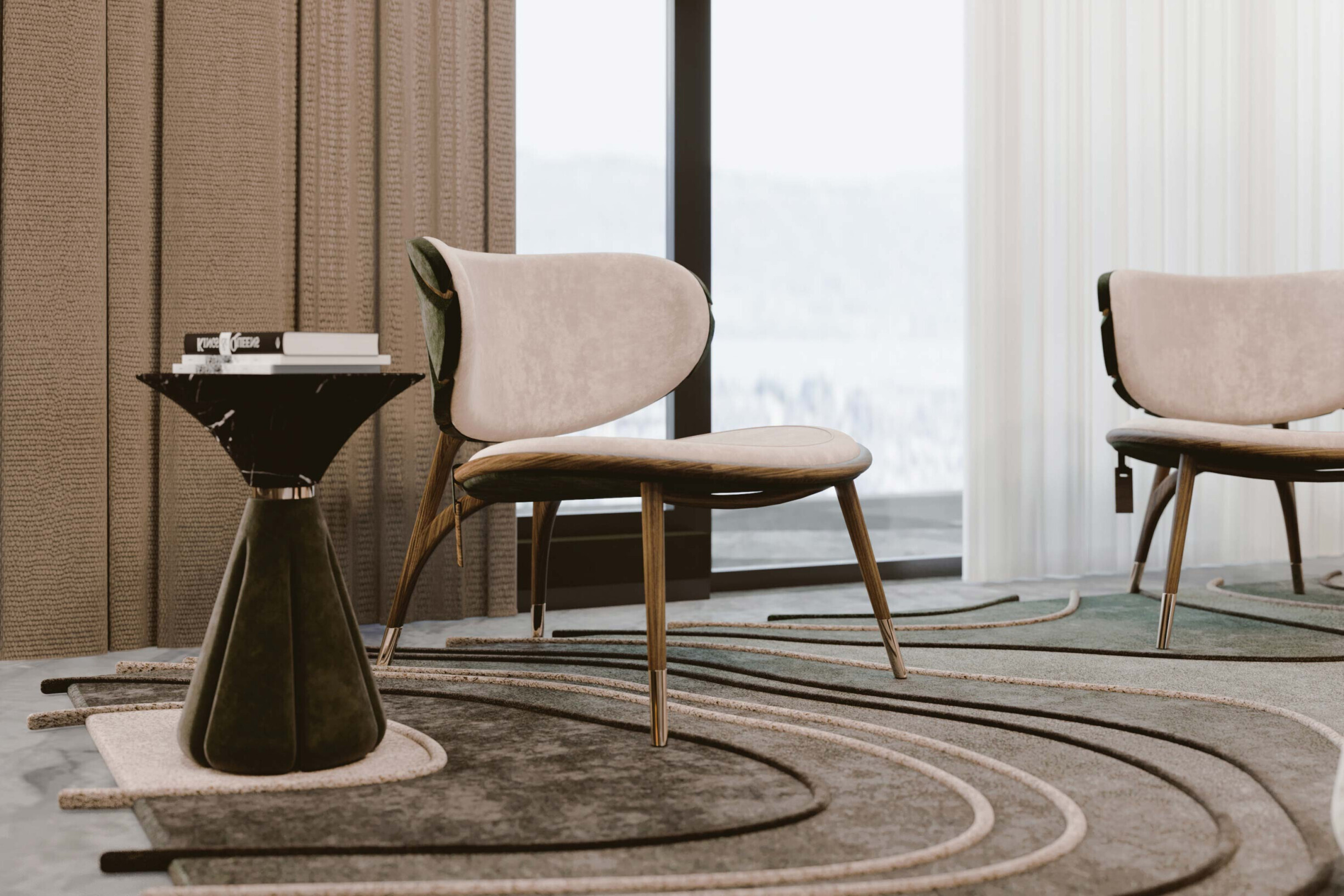 2. Armchair, your cosy moment!
A unique piece that you don't need to share with anyone. An armchair adds a touch of elegance to any living room.
An armchair is a comfortable, padded chair with support on each side where you can rest your arms while you sit. But, more than a comfortable piece, this is a decorative element, usually placed near the sofa or in an empty corner of the room. Choose an armchair according to the style and colours of the furniture, or opt for a differentiating piece that contrasts and makes a difference, as is the case with Uchiwa Armchair from ALMA de LUCE.
This armchair is a glamorous piece that combines the old with the modern. The inspiration for this comes from the fan used by the warriors of the Japanese Empire. They used fans to send signals on the battlefield. The result? A modern armchair in wood and velvet, whose elegant silhouette is perfect for sophisticated and contemporary spaces.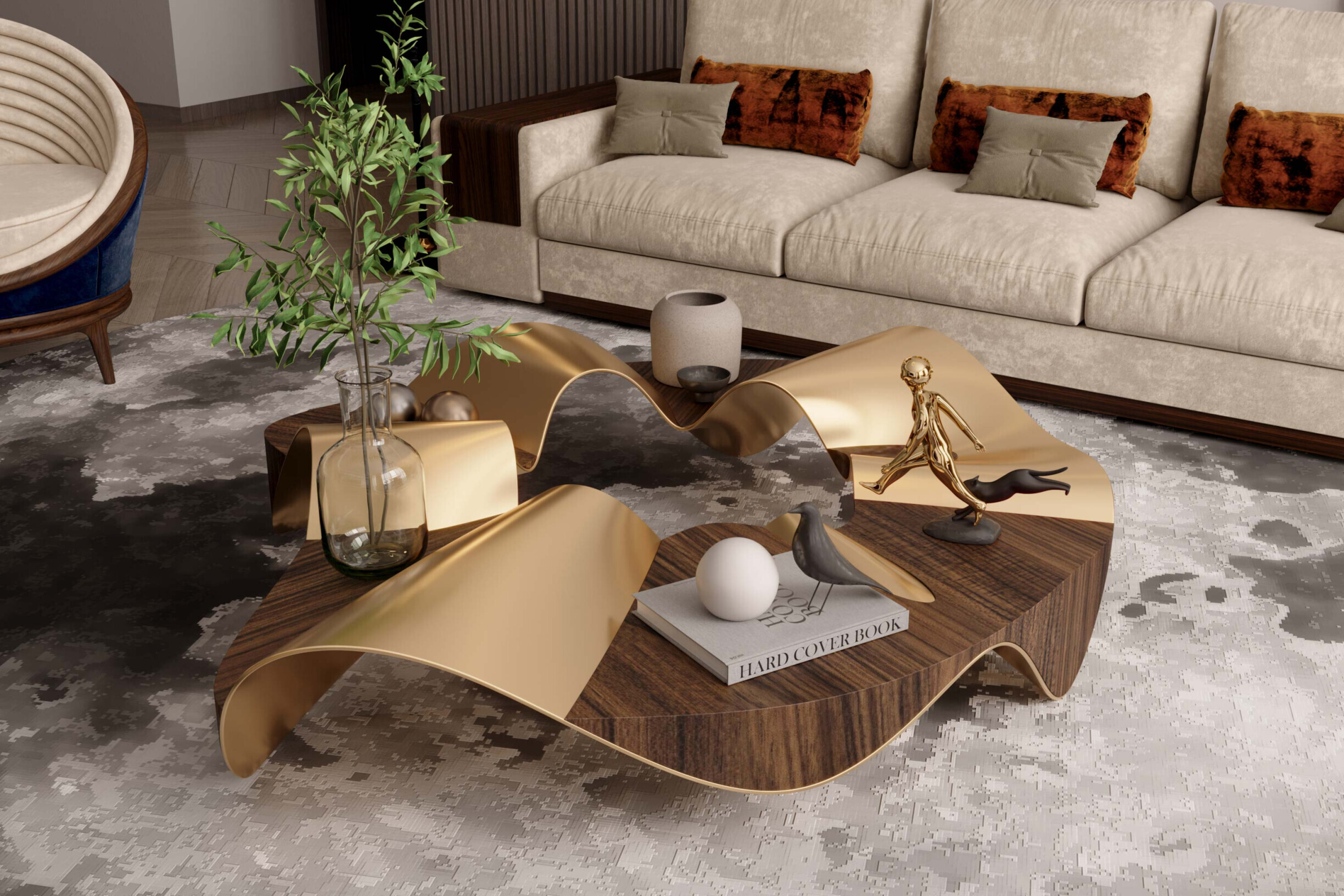 3. Coffee Table, a style statement.
Can a coffee table serve multiple purposes? Of course! It can be a coffee table for the living room, a side table, or a decorative piece. That's why there are models for all tastes, with more practical options with storage, not to mention minimalist and elegant designs where you can place art sculptures, decorative pieces or natural elements.
With this piece, you can express your aesthetics and personal tastes and add a touch of modernity to the living room while meeting your individual needs. Are you looking for the perfect coffee table for the living room? Our suggestion is Ballet from ALMA de LUCE's collection. It breathes sophistication and delicacy in a reinterpretation of the dancers' tutus. It is a decorative piece for the most luxurious interior designs, whose body has a remarkable effect in polished brass with a glossy finish and details in walnut wood with a matt finish.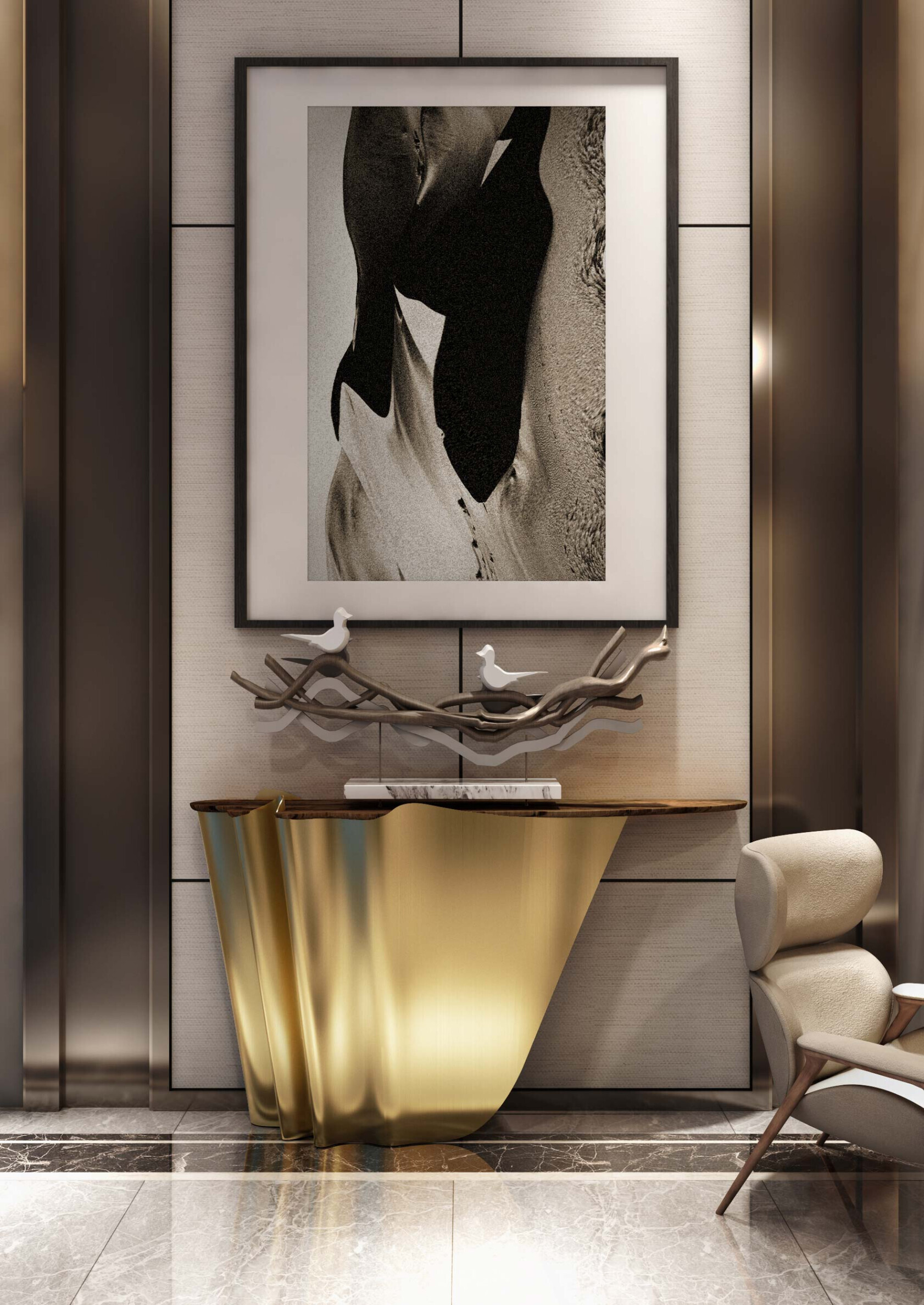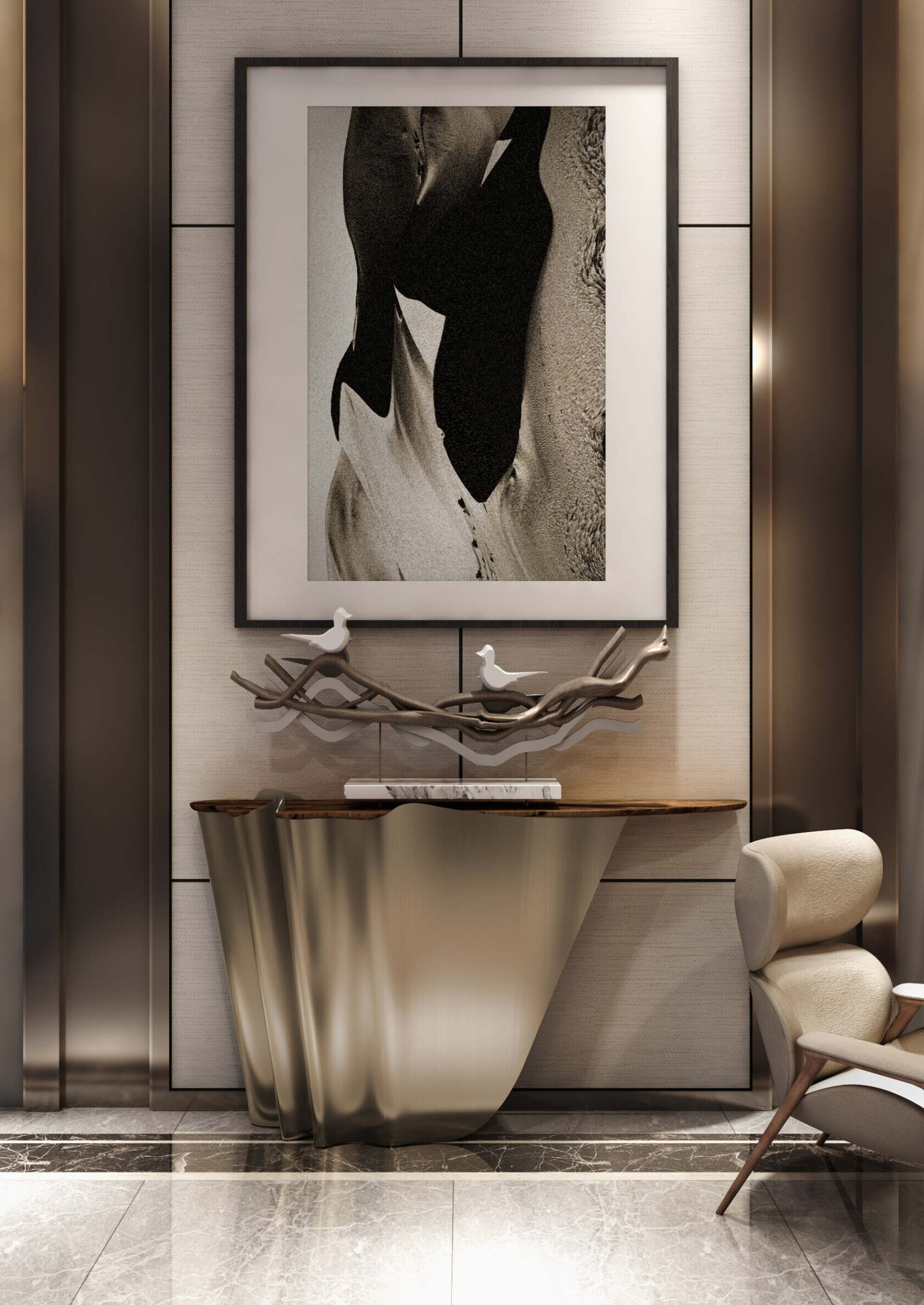 4. Console, means style and elegance!
A console is a small table designed to be placed close to a wall. Adding a console to your living room is a guarantee of style and elegance, filling empty spaces and ensuring storage or not. However, nowadays, the most modern designs and styles have turned them into decorative pieces with different formats and uses.
A console is a versatile piece of furniture that you can place anywhere. Without a console, A living room can look dull. With Sossusvlei from ALMA DE LUCE, you will create an atmosphere of cosmopolitan luxury. This console is made of high-quality materials through which you can feel the ripples of the dunes.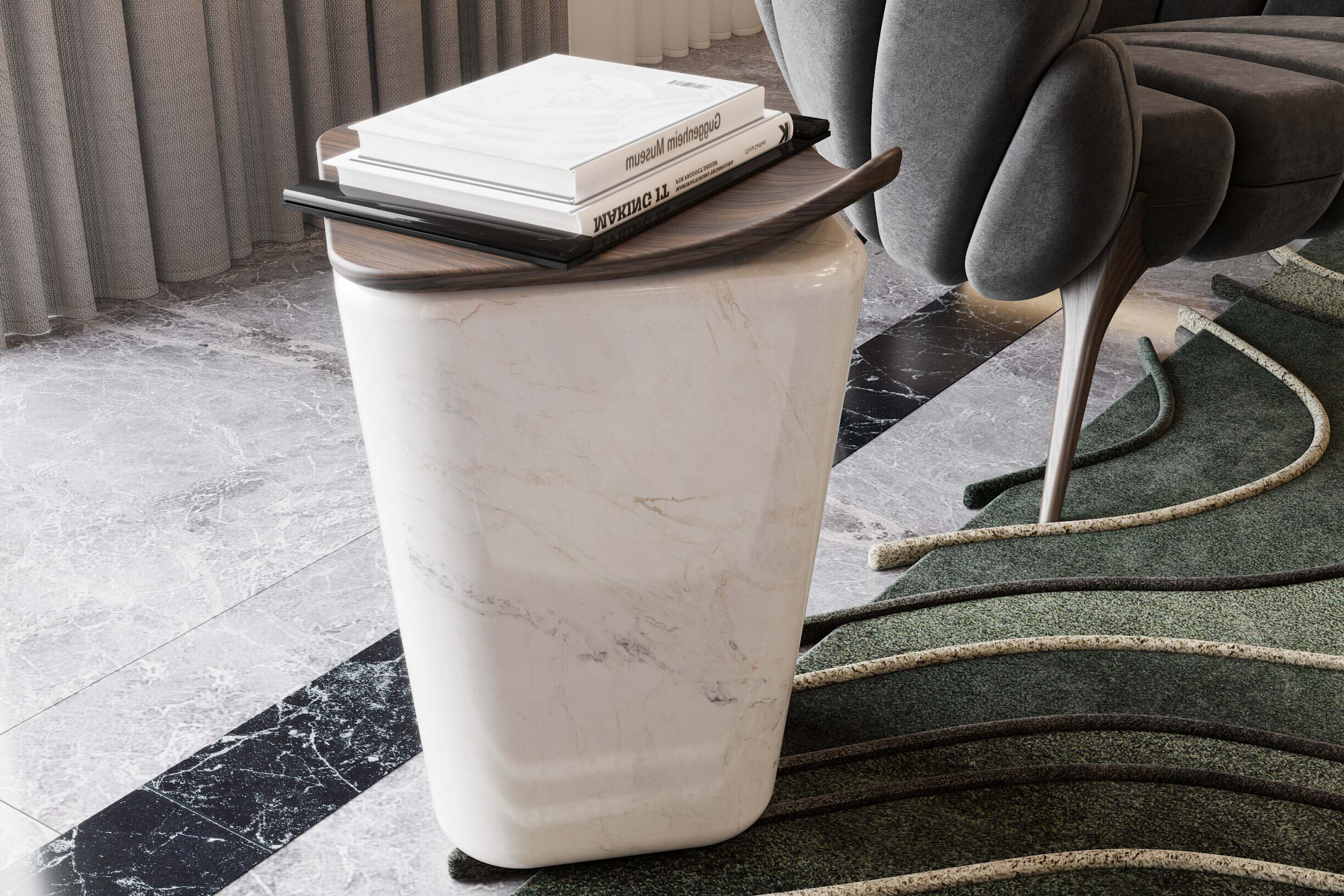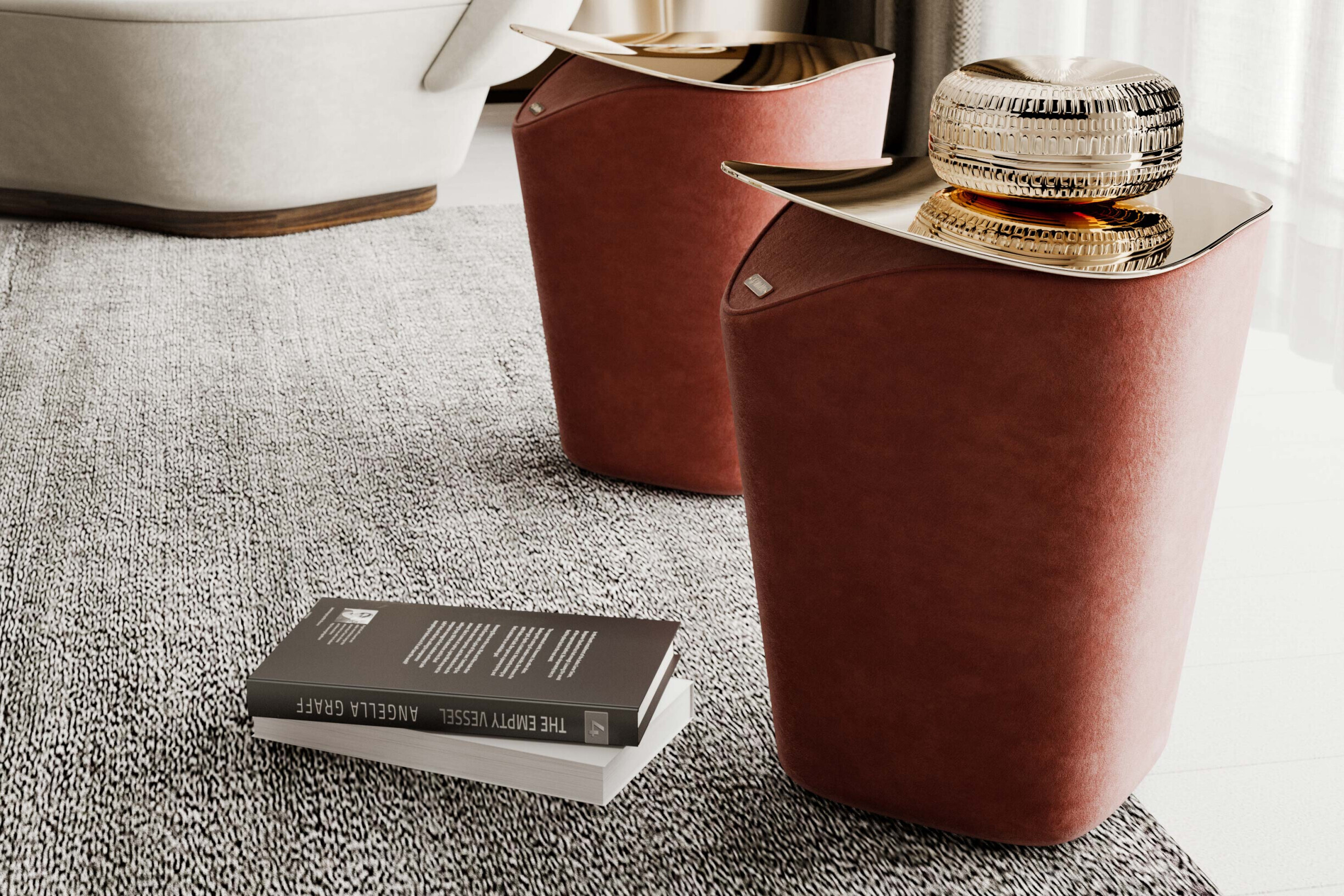 5. Stool, functional and practical.
Can you imagine the difference a simple stool can make in your living room decor? It's not just for sitting down or propping up your feet at the end of a busy workday. A stool is a decorative piece you didn't know you needed in your living room.
A stool is an excellent addition to increase functionality and visual texture in a room. You can place it almost anywhere in your room. Not only does its shape favour positioning, but it matches nearly every piece of furniture in any room according to its decorative style.
How to choose the perfect stool? Opt for an elegant, versatile and functional piece like Masouleh from ALMA DE LUCE. This stool embodies a timeless appeal and can be used as a stool or as a small side table to support armchairs and sofas.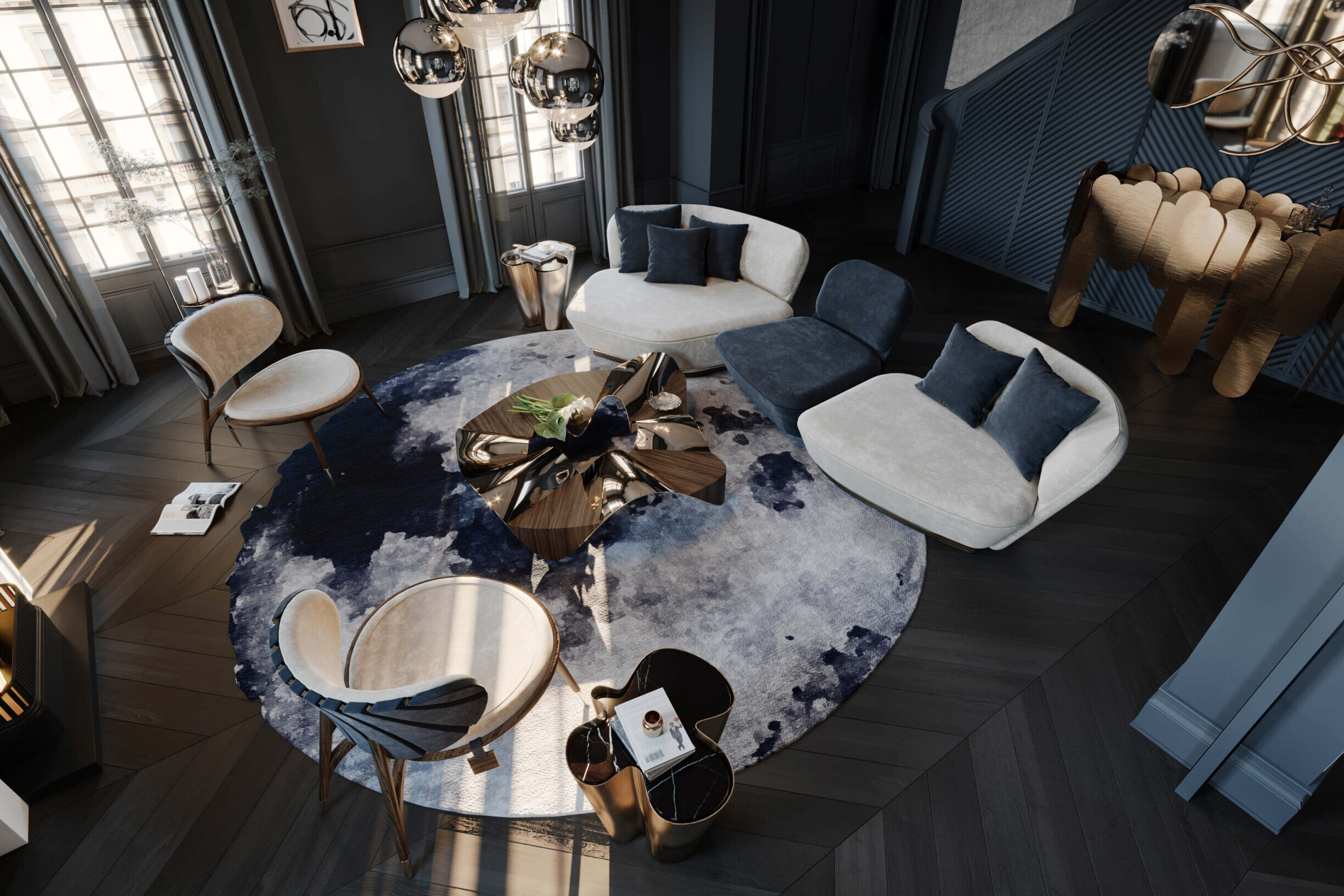 One tip more: don't forget the rug! 🤩​
Extremely important... we could not fail to mention it: the rug!! Because if you can only add one item to make a big impact on the space, a rug is an excellent choice.
Anyone who seriously thinks about decor should be familiar with the miraculous effects that a properly selected rug has on the interior, and these are many! The right living room rug can introduce your accent colours, introduce texture as well as add pattern to a neutral colour palette. The rug also helps to organize the space or optically enlarge the living room.
Thus, introducing a rug is always a fabulous idea that will surprise the final result.
Here is a great modern rug idea: The Moon rug by Alma de Luce has a round irregular design on the edge, which conveys a contemporary and unique style. Excellent for elevating a living room to a minimalist style if you prefer a more abstract and colourful decor.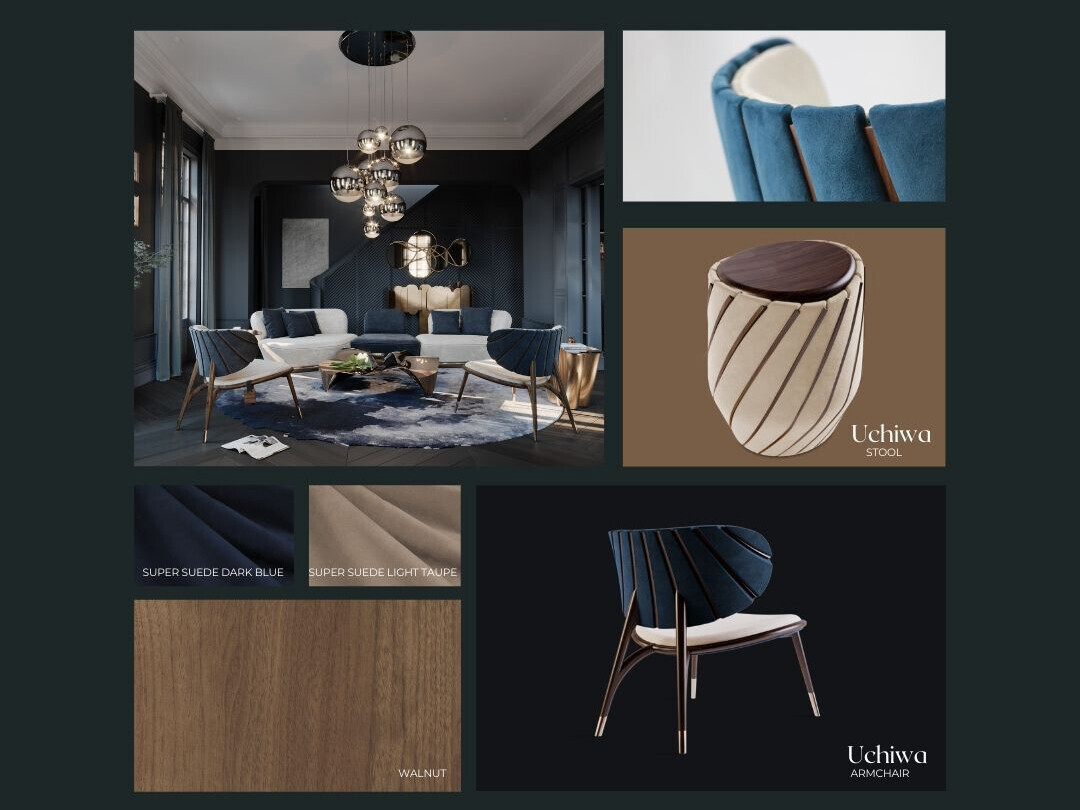 First, make a moodboard and see the stunning transformation happen in your space.
Start transforming your living room today! 😊 Choose one of these pieces or combine them and create an elegant and sophisticated atmosphere in your living room where everyone will want to relax and socialize.
For this, you must first create a moodboard because, with it, you will be able to translate your personality or that of your client, facilitating the creation of the concepts you want for the space.
The moodboard is the tool used in the first step of creating spaces. It is, in general terms, an exercise in self-knowledge used by architects or interior designers to know the client and to define the decorative style of a given area. A moodboard will include references, materials, textures, colours, shapes and even phrases with specific typography that are part of a concept or style.
Want to know how to make a moodboard? An inspiring and stunning moodboard? Once you have your moodboard in mind, it is much easier to visualize the space with the appropriate fabrics for the sofa or materials for the armchair.
See here on Alma de Luce's Pinterest some inspirations that best suit your needs, your tastes or your client's desires. Once you're inspired, want some help getting started? Contact us here.😉