Welcome to this exclusive interview with Lenka Petrakova, the Zaha Hadid Architects (ZHA) Lead Architect, and Helena Costa, representing ALMA de LUCE. Today, we have the privilege of delving into the remarkable journey and achievements of Lenka Petrakova, a seasoned architect who has left an indelible mark on the world of design and innovation.
Lenka's career has spanned across the globe, having worked in iconic cities such as New York, London, Vienna, and Bratislava before finding her current home at Zaha Hadid Architects in London. Her role as the Lead Architect at ZHA is a testament to her exceptional talent and expertise, where she spearheads design proposals while meticulously adhering to technical requirements and planning regulations. Her portfolio boasts an impressive array of Luxury Private residences, Hospitality buildings, and Headquarters, showcasing her versatility and creative prowess.
Lenka's academic journey has been equally illustrious, having embarked on her architectural studies at the Slovak University of Technology. There, she earned bachelor's degrees in both Civil Engineering and Architecture and Urban Planning, equipping her with the technical foundation crucial for her success. Her pursuit of excellence continued with a Master of Architecture from Hani Rashid Studio at the University of Applied Arts, further enhancing her design sensibilities. She also holds the distinguished title of Ing. arch (Architectural Engineer) in Architecture and Urban Design from the Slovak University of Technology in Bratislava.
Lenka's contributions to the field have not gone unnoticed, as her work has been featured in prestigious international exhibitions such as the Venice Biennale of Architecture, Vienna, Zlín, Beijing's 4th Art and Science International Exhibition, and Dubai Expo 2020. Her accolades include the coveted 2020 GRAND PRIX AWARD for Architecture and Innovation of the Sea from the Foundation Jacques Rougerie Génération Espace Mer - Institut de France, as well as the Zlín Design Week Award for Innovation in 2017.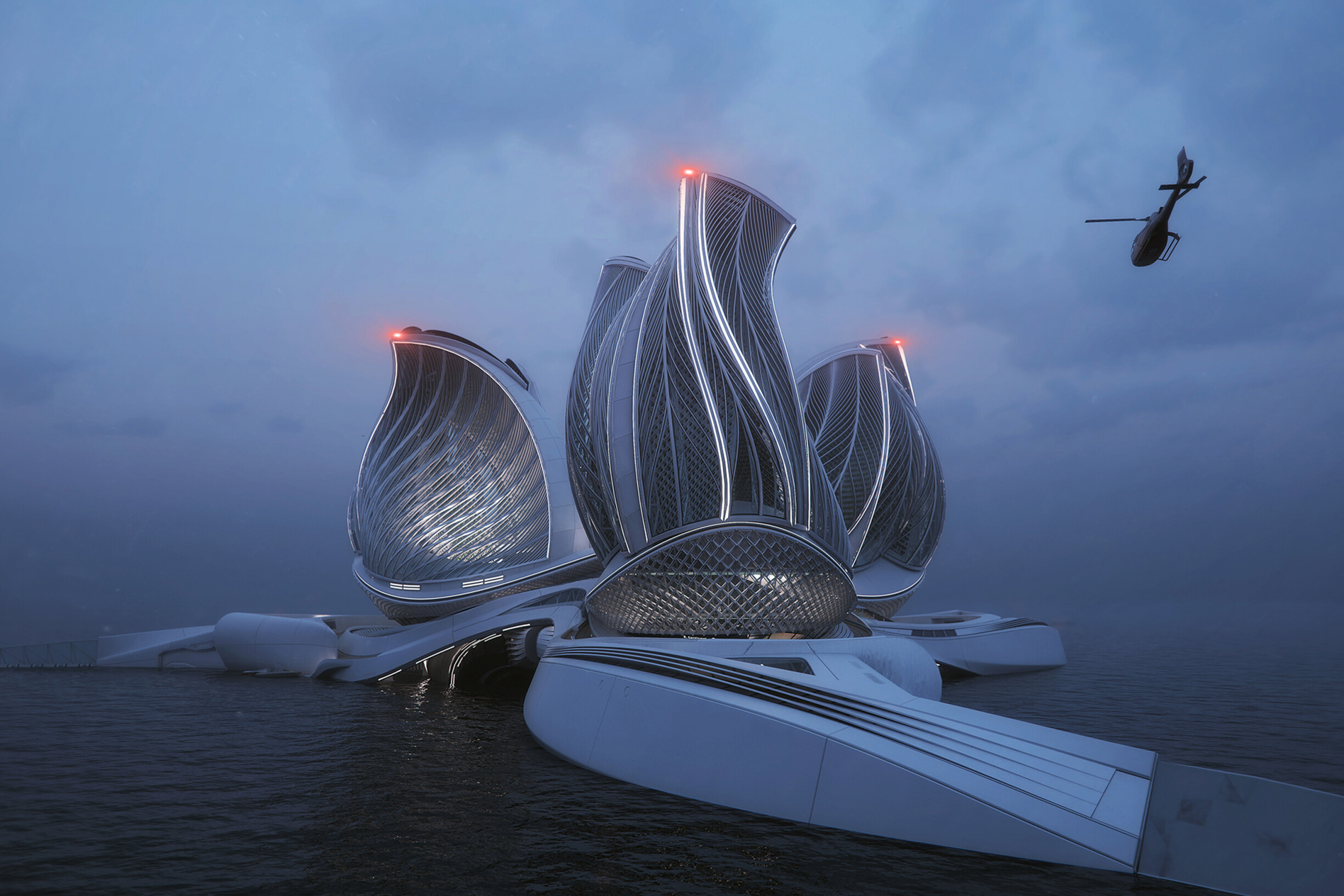 Join us in this enlightening conversation as we delve into Lenka Petrakova's journey, her vision, and her remarkable contributions to architecture and design. This interview promises to be an inspiring exploration of creativity and innovation in the architectural realm.

Helena Costa: Where does your passion for architecture come from?
Lenka Petrakova: My father was a visionary. He was the mayor of the village where I grew up for 30 years.
He developed from a small village, which did not even have services like sewage, water, or gas, a beautiful village with its own water cleaning facility new services and he even developed projects for energy independence, such as a hydroelectric power plant. He dedicated his entire life to the improvement of the built environment that would positively impact the lives of others. And this is what motivated me to become an architect. To be able to improve lives through the spaces I design.
HC: What are some of the guiding principles behind your work?
LP: I am very interested in a design inspired by nature. It is not a new concept, but thanks to the improvement in technology, digital design, AI integration and material development we are able today to get away only from formal inspiration and analogue methods and we are able to start to design structures that are much smarter, sustainable, energy-efficient and that aesthetic is not a goal but outcome of the processes.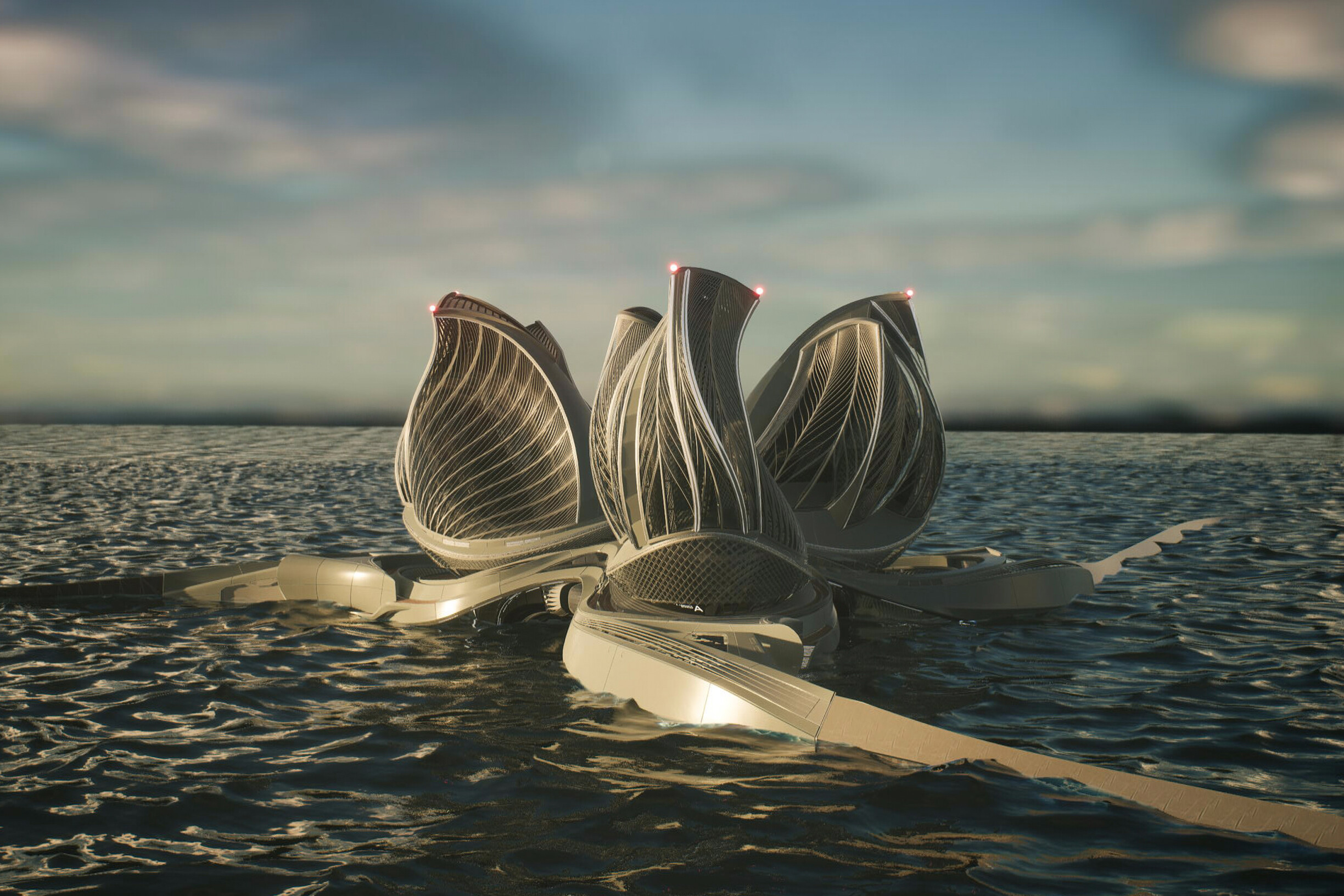 HC: In your experience, what are the key ingredients for great designs?
LP: For me, great design must be the diligent answer to a given problem that the designer is trying to resolve. It should not be only an object that is formally pleasing. It must be a functioning entity that incorporates structural, technical, and material requirements. In architecture, it should be energetically efficient, and it should have a well-developed spatial organization.
HC: In What ways can architects create change and build equity in their communities?
LP: Architecture should be engaging, creating private, semi-public, and public zones that people feel comfortable in. Many times, architectural spaces are pushed to the limit of comfort due to area restrictions by the developers and the need for optimization. Architects should not forget about the end user and what impact on his life, comfort, and well-being the places will have.
HC: Mario Botta says memory and history should be architects' main sources of inspiration. What do you think about this?
LP: I am interested in Natural Inspiration and its impact on design, but if we look at natural inspiration as an evolution over the last hundreds of years, thanks to observation of natural systems, we are learning, and we can implement the previous knowledge in our work. In this case, previous knowledge that is already encapsulated in previous designs by nature or humans can teach us a lot. One could say the designs would be inspired by history.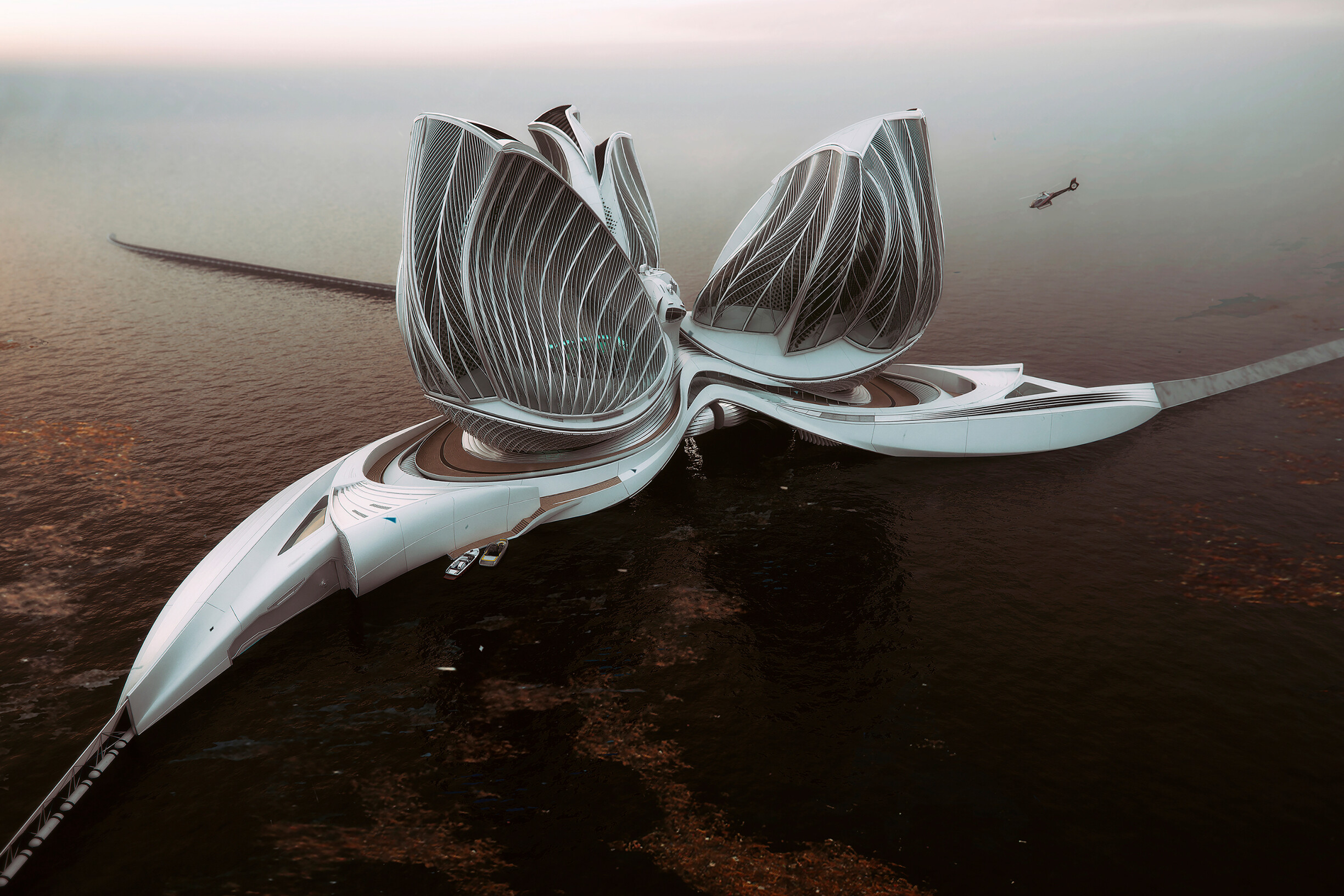 HC: Can you tell us about a successful project of yours?
LP: The 8th Continent ® - Ocean Cleaning and Research Stationis a private project of mine that I am very passionate about.
The 8th Continent® - Ocean Cleaning and Research Station was designed as a unique technology for collecting, sorting, and recycling waste to address world pollution by physically removing debris. Its hidden power is to systematically address the problem by combining technology with education through its Research and Education Centre.
The 8th Continent®'s design offers a unique opportunity for ocean exploration. Similarly to today's space stations, which conduct various experiments, The 8th Continent® aims to provide a platform for a wide range of scientific inquiries on the long-forgotten frontier – the world ocean. Through its building program, technology, and architecture, it addresses the issues of self-sufficient facilities on the open Sea.
The 8th Continent® was awarded the 2020 Grand Prix Award for Architecture and Innovation for the Sea from the Jacques Rougerie Foundation, and it was exhibited at the 2020 Dubai Expo and during the 2022 UN Ocean Conference in Lisbon. The project started as my Master's Thesis at the University of Applied Arts (Vienna) in 2017.
HC: What has been your most challenging project?
LP: The 8th Continent ® - Ocean Cleaning and Research Station, it is combining many difficult topics that we, as architects, do not pick up on a daily basis. The full technology of water cleaning, water flowing through the built object, and the station floating on water is a large construction challenge.
HC: What is your dream project?... Or what kind of house would you want to design for yourself?
LP: The 8th Continent ® - Ocean Cleaning and Research Station is my dream project- I wish to build it and help clean our oceans. The project, the idea, and its design can help us understand pollution and resolve a problem of a large scale and human position towards it.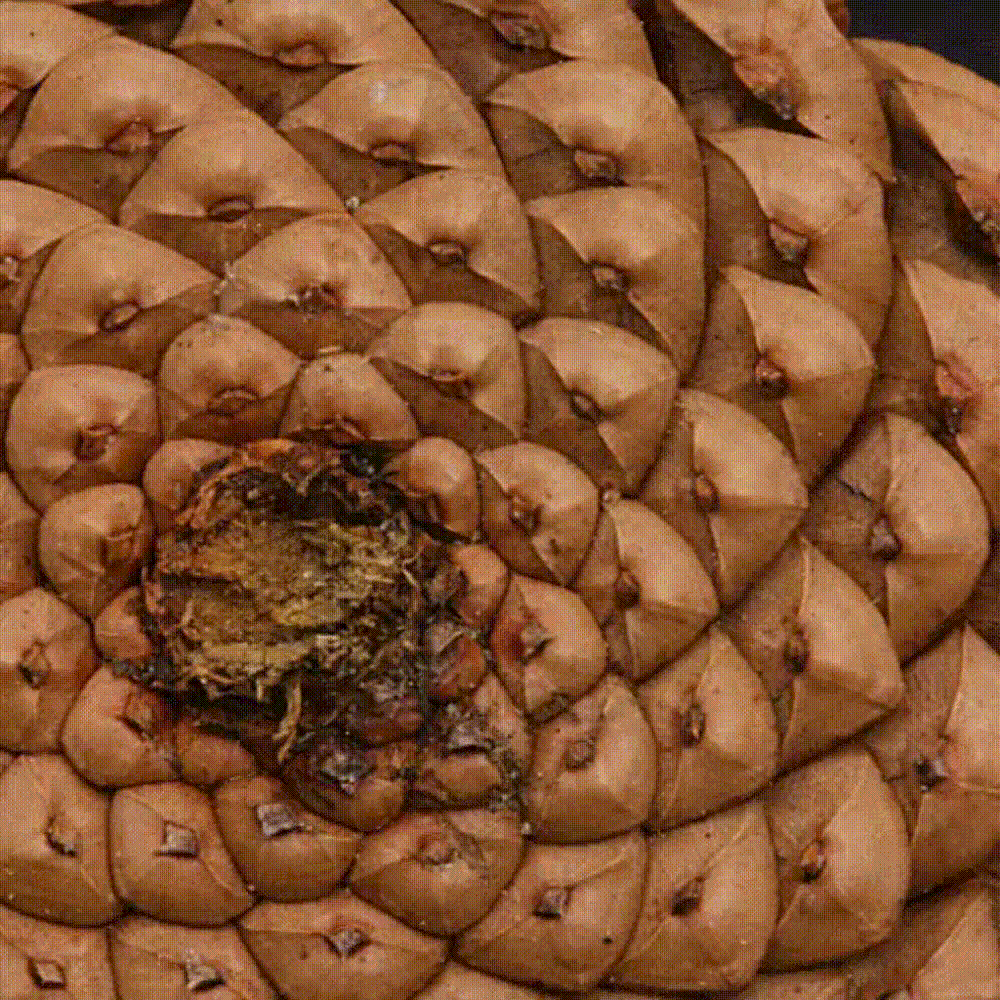 HC: With changes to climate, technology, and construction, how do you think architects and designers will adapt ways of practicing and changing the profession?
LP: I believe we need to move away from analog designing to digital design and implementation of AI to be able to faster understand different models of the environment and their evolution during the life of the building. At the same time, we can use new technologies to predict our buildings' user activities and energy efficiency. I believe designers and architects today have much better sets of data and resources than ever before to design fully functioning objects that are future-proof.
HC: As you look to the future, are there any ideas you think should be important in the minds of young Architects, Designers, or Interior Designers
LP: The evolving landscape of architecture, design, and interior design is influenced by a myriad of factors, ranging from technological advancements to environmental concerns and shifts in social paradigms.  For young professionals entering these fields, it is important that they keep developing their skills to be able to use the latest technologies to optimize their workflow. These technologies offer unprecedented capabilities for optimising workflow, enhancing collaboration, and expanding the realm of what is possible in design. However, they also come with the need for continuous learning and adaptation, as well as a keen understanding of their implications on both the design process and the resultant built environment.