Some pieces are the finishing touches that transform a house into a home, an office into an inspiring work area, or any space that reflects the identity of those who live in it. More than mere objects, they are the souls of the place.
When we enter a well-decorated room, we immediately feel the influence of the decorative pieces. Each piece tells a story, transports us to a place, reflects a personal taste, and evokes emotions. Be it a work of art, a sculpture, or a piece of furniture. 
Have you ever imagined what a living room would be like without a sofa? It wouldn't be the same thing, indeed. But, at the same time, not just any sofa catches the eye, comforts the body and soul, that makes a difference in decoration. Not any sofa has the power to bring soul to the decoration. Being beautiful, comfortable, elegant or luxurious is not enough. It needs to have a story, to convey sensations and feelings. It's like a work of art. A detail that makes all the difference.
"A great sofa is a work of art. It's the element that can elevate the entire design of a room." 
Barbara Barry
The Ghadames sofa from ALMA de LUCE comes from inspiration. And when we sit in it and enjoy its characteristics, we are transported to that inspiration. Have you ever imagined being transported to a city in Libya that is a World Heritage Site? We will come to this inspiration later. For now, we want to introduce you to some of the features of the Ghadames sofa.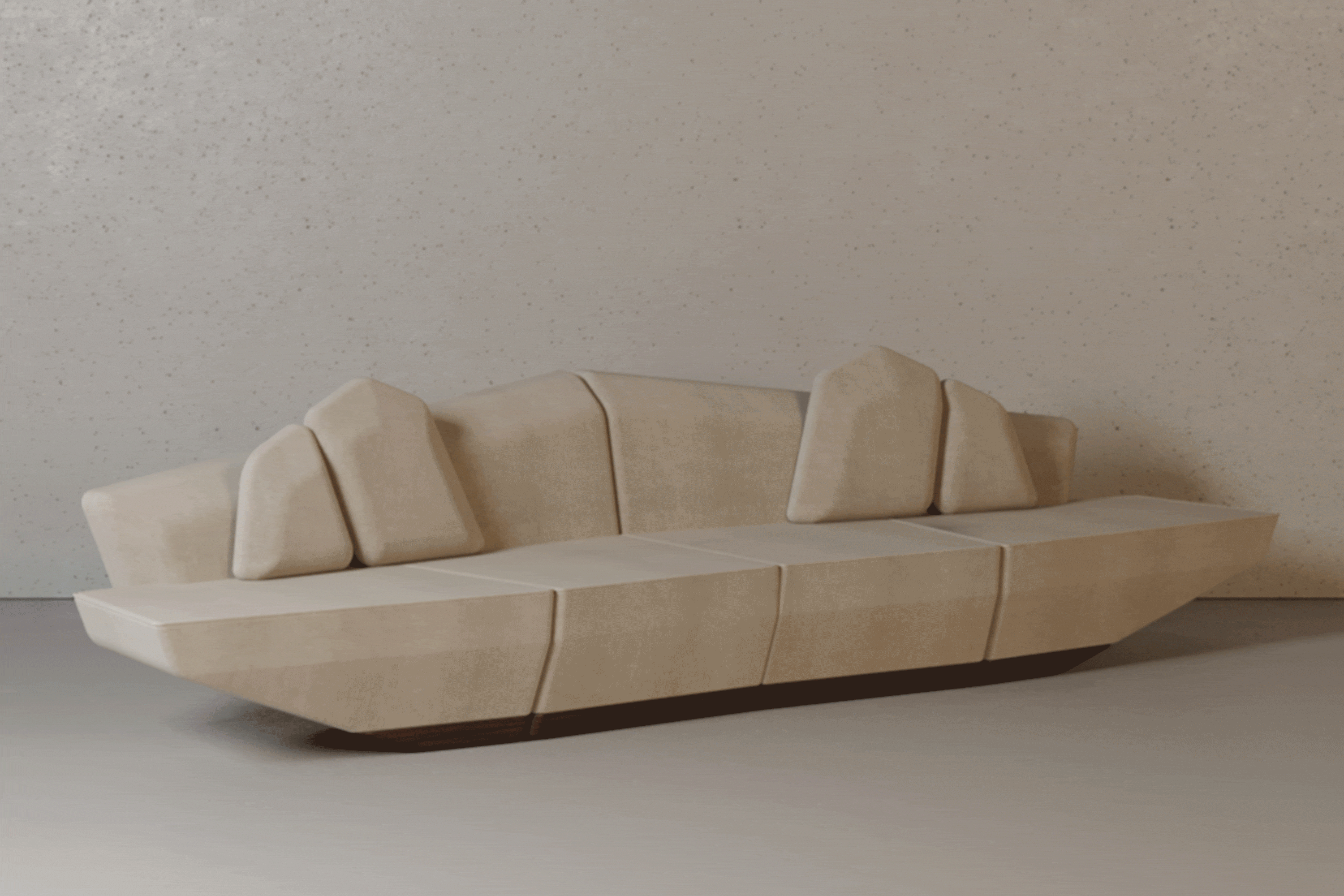 Ghadames sofa: unique features
The description is simple: "This contemporary sofa, which is very comfortable, will fit with living rooms with modern interior design style orientation". But the Ghadames sofa is much more than this.
Included in the Place collection, this is a sofa with clean and straight lines, clearly minimalist, elegant, and modern.
It is a sofa that stands out for the quality of its materials. The upholstery is composed of soft suede fabric and leather, and the footer is made of solid walnut or Ash wood with dark stain and matt finish. It is essential to mention that there may be variations in color, grain, and natural patina, which are inherent to natural materials, such as stone, wood, or metal. They are considered part of their natural beauty.
The materials chosen for the Ghadames sofa were not random. Soft suede fabric is a fantastic material due to its smooth, velvety texture and elegant, sophisticated, and luxurious appearance. Furthermore, it is durable and wear-resistant, making it perfect for the daily use you would expect from a sofa. Other characteristics stand out in this material, making it ideal for the Ghadames sofa: easy to clean, hypoallergenic, versatile, stain-resistant, and with good thermal insulation.
The solid walnut footer is a plus, as walnut is known for its distinctive fine grain, which can range from wavy to straight, providing a unique and attractive look and a natural finish. It also has the advantage of being a complex and dense wood, which makes it durable and resistant to scratches. It also has high stability and density and is particularly resistant to insects and fungi.
In addition to the traditional version of the Ghadames sofa, there is also the option with a chaise longue to provide greater comfort and relaxation at the end of a working day.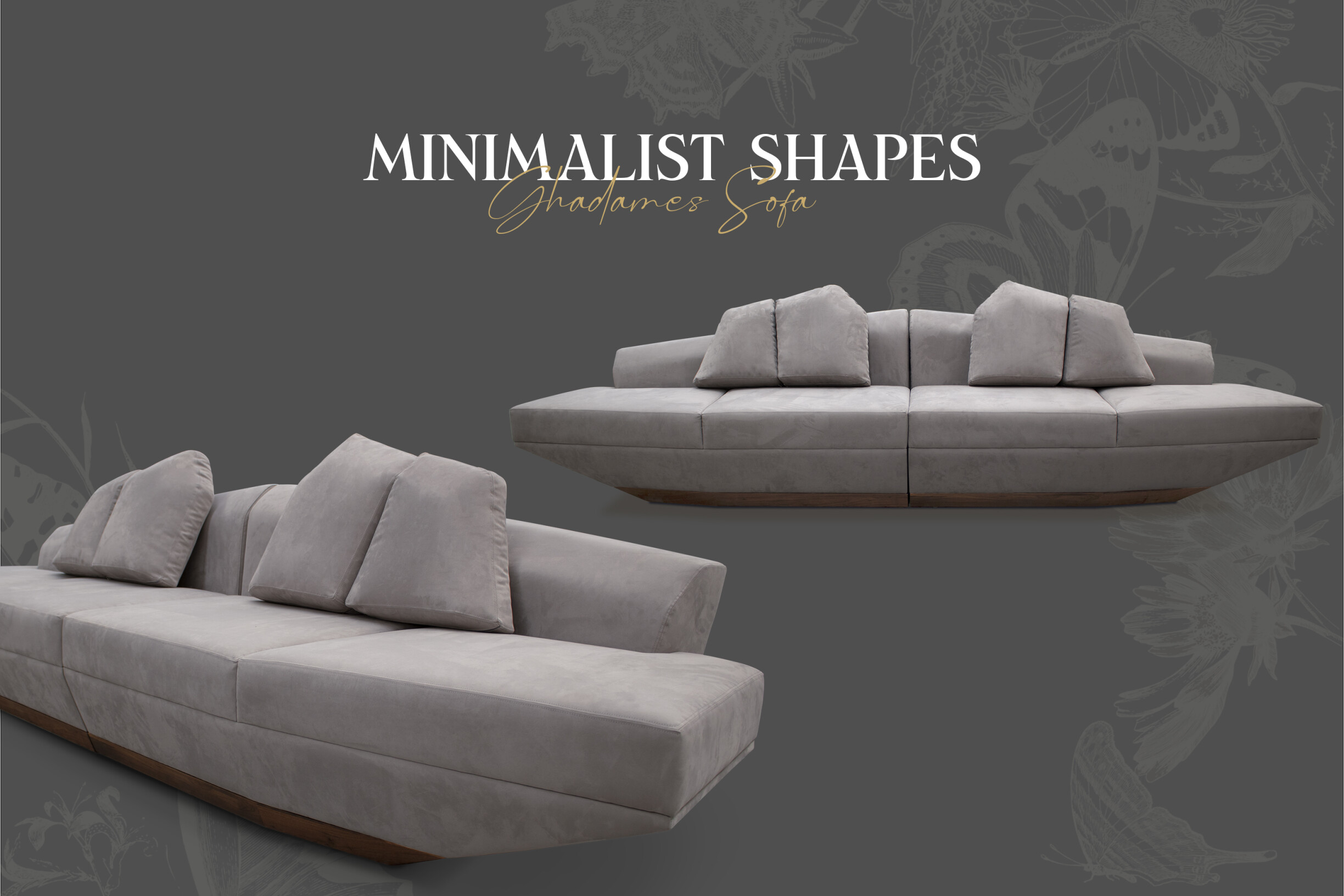 Inspiration coming from Libya
The inspiration for the Ghadames sofa comes from Libya. The designers at ALMA de LUCE found the motivation to create a minimalist, contemporary, and timeless piece in an iconic city in western Libya.
Cultural influences emerge as a powerful source of inspiration for architects and designers, allowing the creation of rooms that transcend the conventional and tell captivating stories, as we explain in this blog article about Cultural Influences in Luxury Interior Design. 
Ghadames is a city, an oasis in western Libya. It is located about 550 kilometers from the Lebanese capital of Tripoli, close to the borders with Algeria and Tunisia.
In an oasis with around 7 thousand inhabitants, the old part of the city is surrounded by a wall. Its beauty and unique characteristics were worth the elevation to UNESCO World Heritage in 1986. 
Ghadames, known as the "pearl of the desert", is located in an oasis and is one of the oldest pre-Saharan cities and an outstanding example of a traditional settlement. Its domestic architecture is characterized by a vertical division of functions: the ground floor used to store supplies; then another floor for the family, overhanging covered alleys that create what is almost an underground network of passageways; and, at the top, open-air terraces reserved for the women.
It has been listed on the List of World Heritage in Danger since 2016, among four other sites in Libya, because of damage caused by the Libyan Civil War affecting the country and the threat of further damage it poses.
Where do we see the oasis city of Ghadames on the sofa? The clean and straight lines, clearly minimalist, take us back to the fantastic architecture of this iconic city. The architecture of this city is demonstrably a genuine adaptation to the harsh desert climate. The compact form minimizes exposure to the sun and construction costs while ensuring family privacy and residents' comfort throughout the year. The inspiration for the Ghadames sofa by ALMA de LUCE came from the group of buildings that make up the city.
With a vision to understand the past and interpret it through the colors, materials, and contemporary design, ALMA de LUCE created this emotional sofa passionately inspired by the iconic city of Ghadames.
3 interior decoration suggestions with the Ghadames sofa
"Sofas are like the canvas of a room. They provide the backdrop for the entire design."
The American interior designer is full of reason. A sofa can be the fundamental piece in a decor. And if it's a sofa like the Ghadames from ALMA de LUCE, success will be guaranteed. But, if you need to learn how to implement this piece in your interior decoration, we leave you 3 suggestions.
1. The Ghadames sofa in a modern, minimalist style
A clean, neutral-colored sofa, such as the Ghadames sofa, can be the focal point in a minimalist living room. It will be the perfect decoration, complemented with other pieces in the same decorative style, such as a simple coffee table, a monochromatic rug, or some cushions. Remember: in the minimalist style, less is more, as we explained in this blog article about how less can be more in Living room decor.
2. The Ghadames sofa is the star of Scandinavian decor
A sofa with simple, straight lines and a wooden footer fits perfectly into the Scandinavian decor. The Ghadames sofa meets all these requirements, adding softness and comfort through the fabric. Add wool blankets, textured pillows, and other wooden elements to create a warm and inviting living room.
3. The Ghadames sofa in a classic and elegant decor
A sofa with a classic design with traditional colors is perfect for classic and elegant decoration. How to combine it? We suggest to use the Ghadames sofa in a luxury context with refined furniture, such as a glass coffee table, crystal pieces, or pieces with gold details. You'll have the perfect decor with luxurious touches, like art pieces or heavy curtains.
Come and see the Ghadames sofa
Still not surrendered to the elegance, beauty and comfort of the Ghadames sofa? We can't wait to tell you the whole story behind this piece. Please click here and talk with us to receive the most exclusive information.
Furthermore, on our Pinterest, we have an album with inspirations with the best luxury sofa design in a selection by ALMA de LUCE to inspire interior designers looking to complete their projects. Here you can get inspired to use the Ghadames sofa in different projects. 
If you like our tips, stay tuned to our blog for more information and curiosities about architecture, interiors, and construction!