What to expect from interior design in 2023? "The way people want to decorate has changed recently," said the British designer Lee Broom in an interview for the website Livingetc.com.
How is this reflected in this industry trends? There is a need for more positive thinking, in which people seek to surround themselves with what makes them happy. In interior decoration, this will is expressed in new colors, textures, materials, and environments, in an appreciation of details and details. So, the trends for 2023 reflect the need for a sense of serenity combined with a fun and cheerful decorative impulse. This approach aligns with a general movement towards sophistication and a feeling of luxury.
"The details are not the details. They make the design."
Charles Eames, designer
In this reality, the leading interior design trends for 2023 emerge. They are not just details or directions. They are creating how people - and interior designers/architects - combine, value, and create spaces that correspond to their needs and wills. From the use of specific colors to the enhancement of natural materials and lighting, without forgetting the characteristics of the decorative objects or the luxurious aesthetics, we will explain each of the trends you must be aware of in 2023.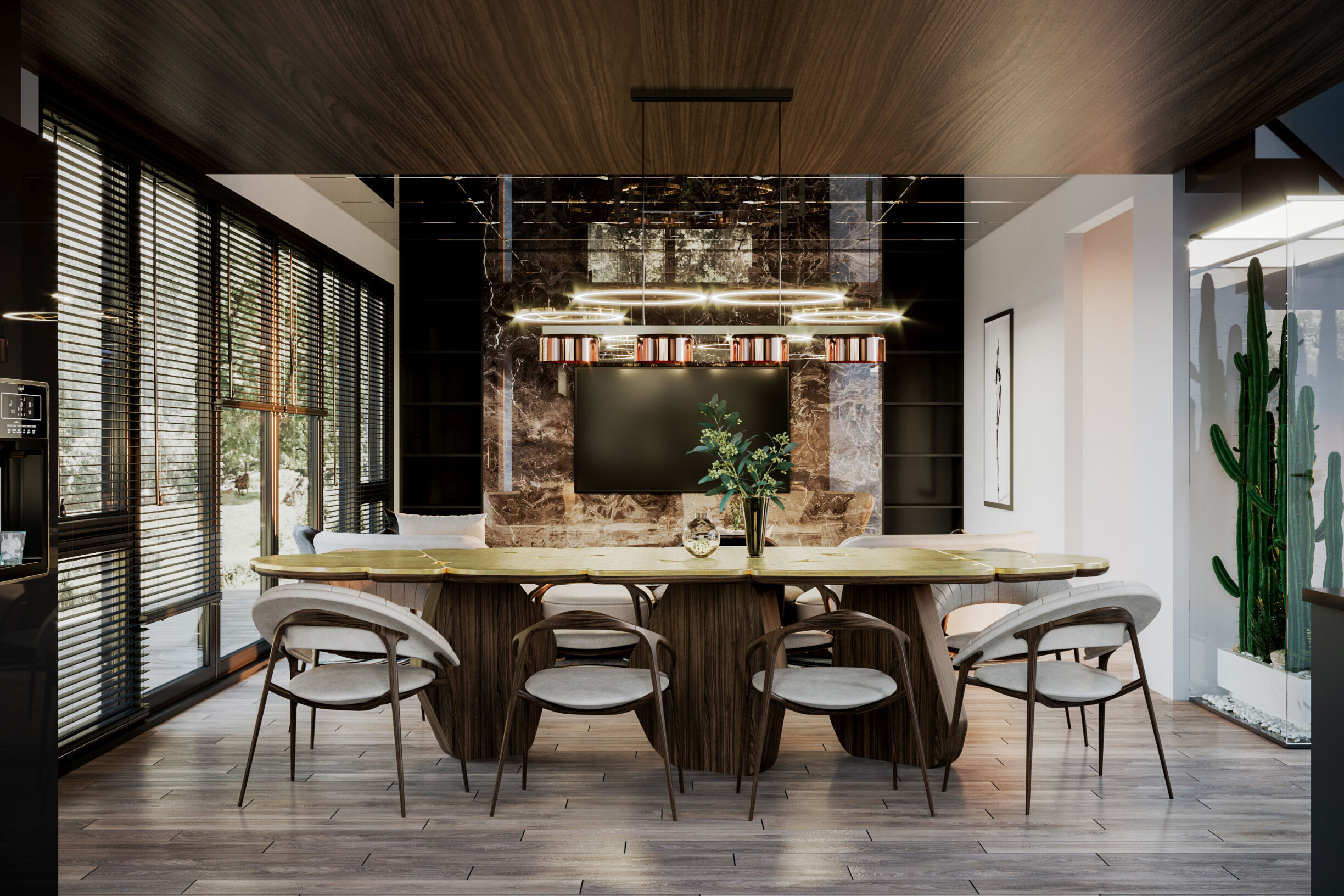 Top 10 interior design trends in 2023

1. Golden tones
A tone that, from time to time, returns as a trend. 2023 will be the year of golden tones, elevating interiors with a touch of pure luxury. Whether in furniture, chairs, details, or wallpaper, golden tones will be an inspiration for interior design.
An excellent tip? When well used, gold warms and adds elegance to environments without making them tiring. When combined with wood, gilding stands out, allowing for beautiful and harmonious compositions. This is the case with the dining table Anta da Arca from ALMA DE LUCE, which has distinctive details that make it a delicate combination between the best-handcrafted walnut wood and the touch of gold leaf in shades.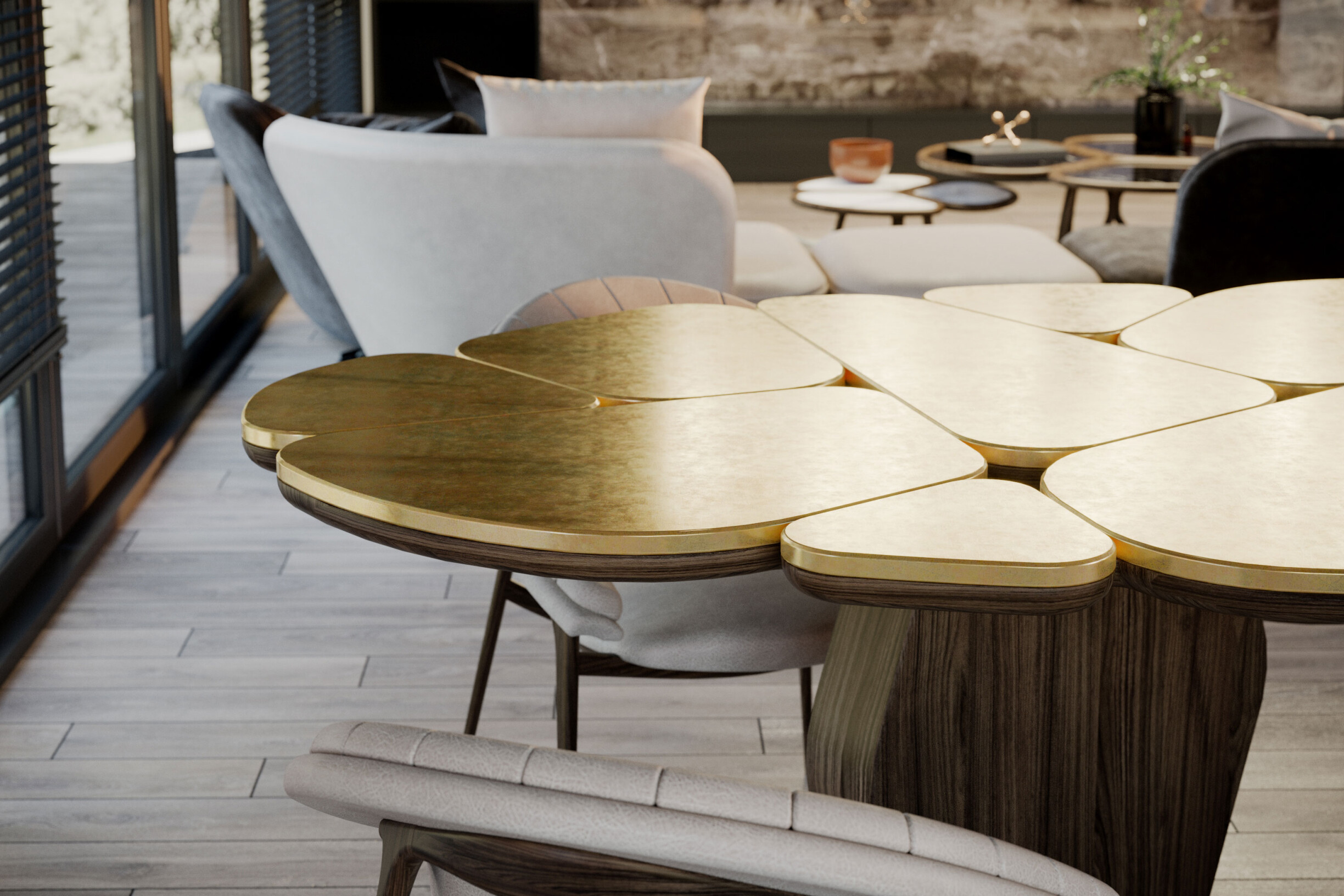 2. Convivial seating
In this new era, furniture design creates solutions that encourage the art of living together and socializing. With pieces that promise to give a touch of luxury and sensuality to any living room, such as the Rusak sofa from ALMA de LUCE, it can receive friends and family and guarantee conviviality. 2023 is the opportunity to bring friends and family together again.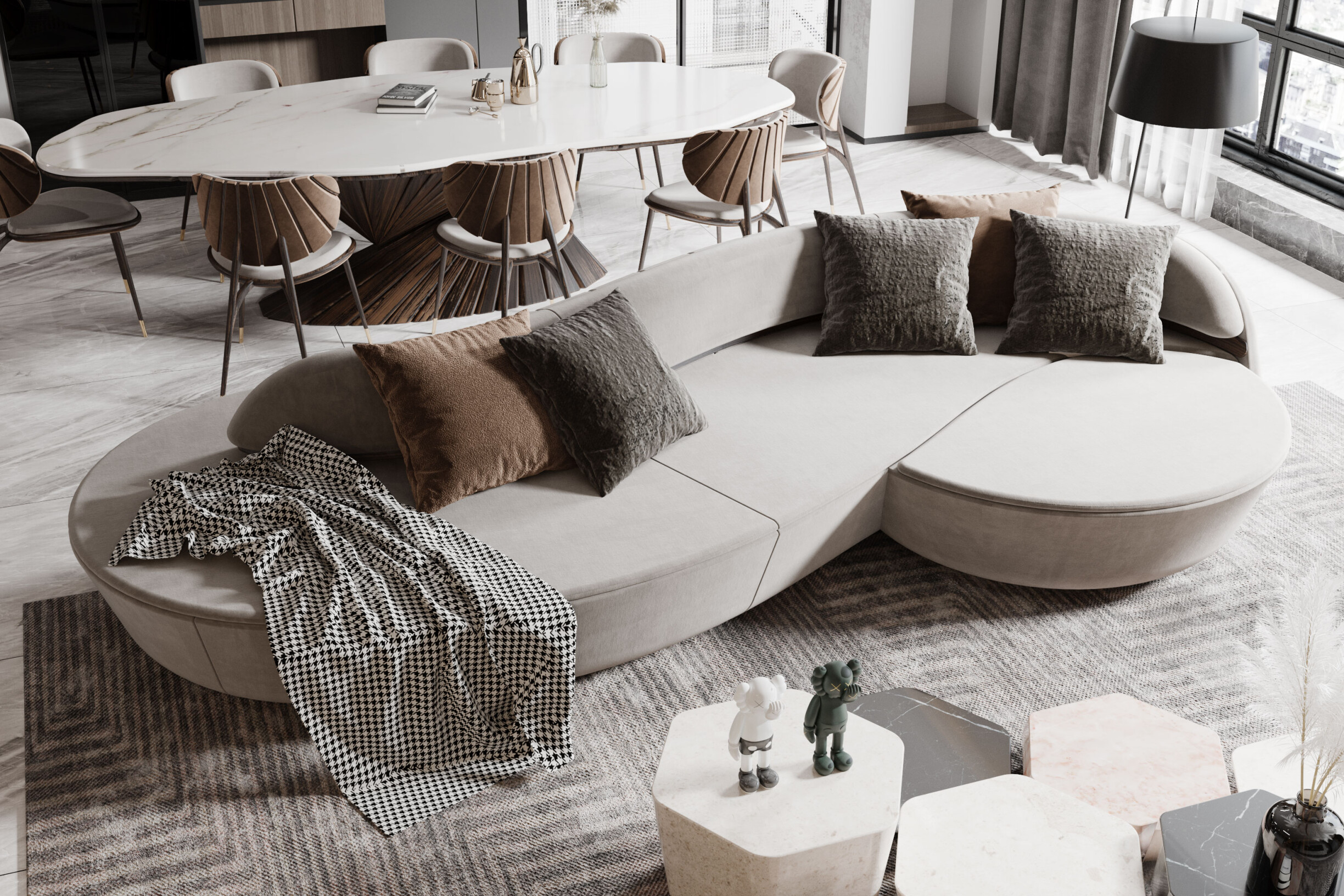 3. Irregular rugs
They were created to dominate the floor and attract attention. Irregular rugs are striking designs that ensure a stunning impression and shape a new contour in design, boasting unconventional shapes.
Whether curvy, geometric or angular, these rugs are versatile pieces capable of transforming the look of an environment and transmitting elegance and warmth when used correctly. One of our favorites is the rug, Black Pearl. With a bold graphic design and a creation without limits, ALMA de LUCE developed a lively rug inspired by the richness and rarity of the black pearls.
Thinking about the ideal rug for a room is one of the first things you should do, as it significantly promotes a cosy, elegant and sophisticated environment. That is why we suggest reading this blog article about contemporary rugs.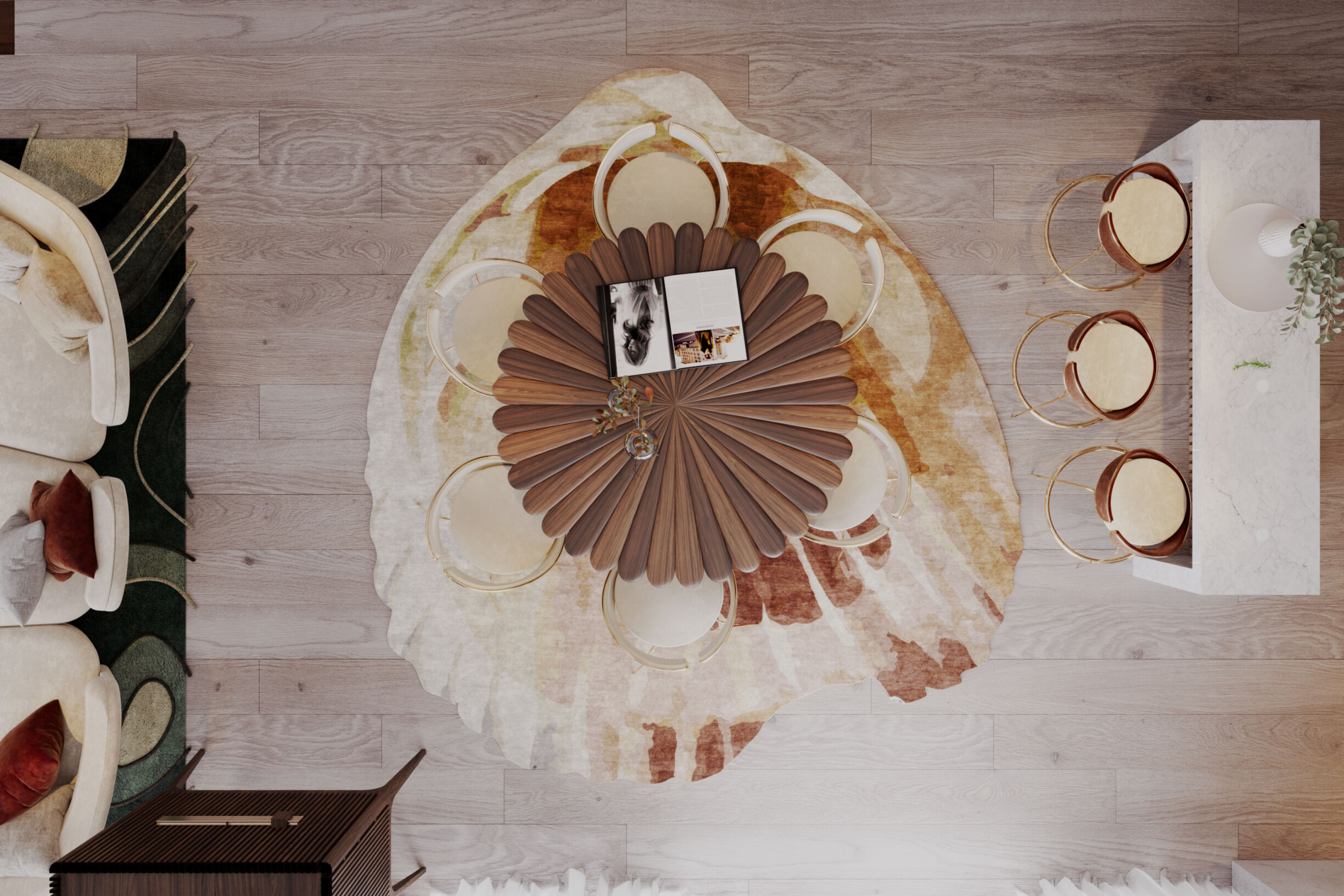 4. Natural materials
If a sense of tranquillity is one of your consumers' comfort needs, nature is the best ally to meet it. Natural materials are, therefore, a significant trend for 2023, creating a spirit of softness and serenity.
"The theme of incorporating nature in interior elements will continue to be prevalent in finishes and fittings", assured Amy Youngblood, the owner and principal designer of Amy Youngblood Interiors, to the website specialized in interior decoration The Spruce. 
The trend is to bring nature into the interior of houses, using plants in internal or external areas or natural materials, emphasizing wood, straw, natural stones, linen, and cotton.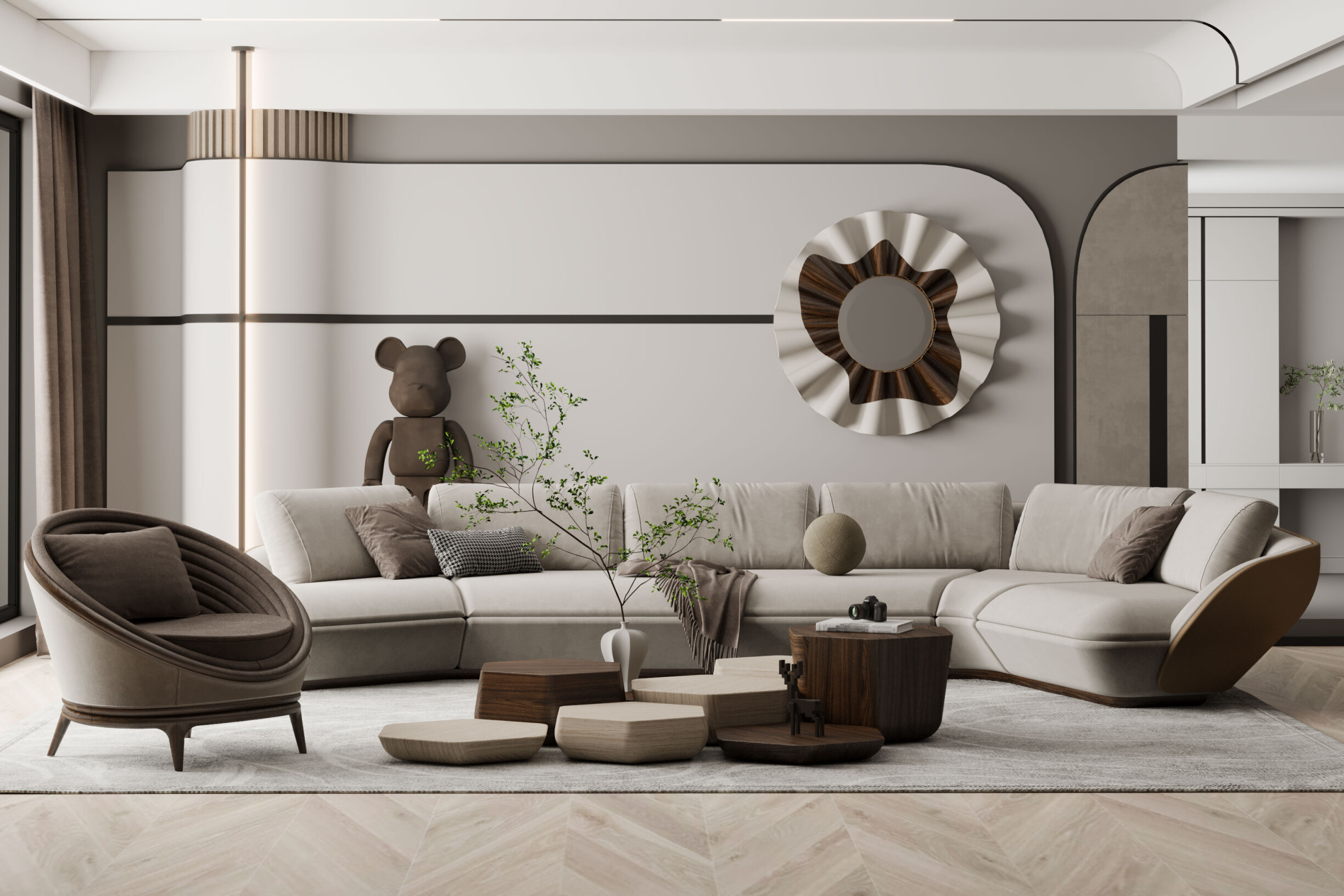 5. Glass
Whether in architecture or interior design, the more glass, the better!
The growing concern with the well-being inside houses translates into a search for resources that provide greater integration of environments, giving spaciousness to spaces and luminosity. Therefore, there is a demand for products and materials that provide thermal comfort with lower energy consumption. Glass is the solution.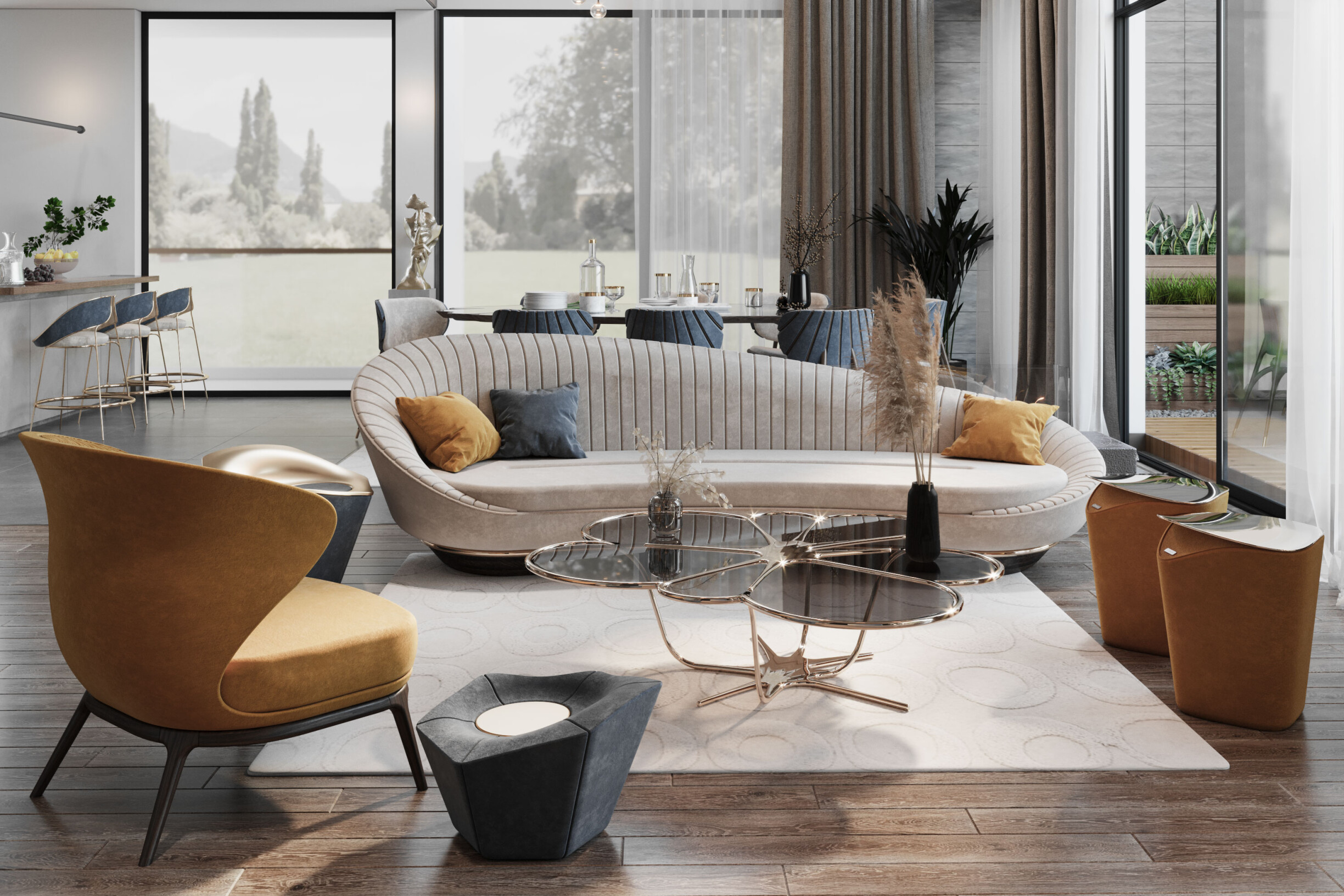 6. Darker wood
We have already seen how using natural materials will be one of the leading interior design trends in 2023, but the truth is that wood will be one of the most prominent elements. Therefore, we left aside the light woods, popular in the Nordic interior architecture style, to adopt darker woods, such as walnut.

The result is a decoration with more personality and more intimacy. A tip is combining dark woods with neutral tones, such as beige, or with the first trend we discussed in this article, golden tones. The cabinet Espigueiro from ALMA DE LUCE manages to reconcile these two trends perfectly: an imposing darkened wooden display that challenges a tradition and cherishes it simultaneously was born to be a must-have in any luxury living room.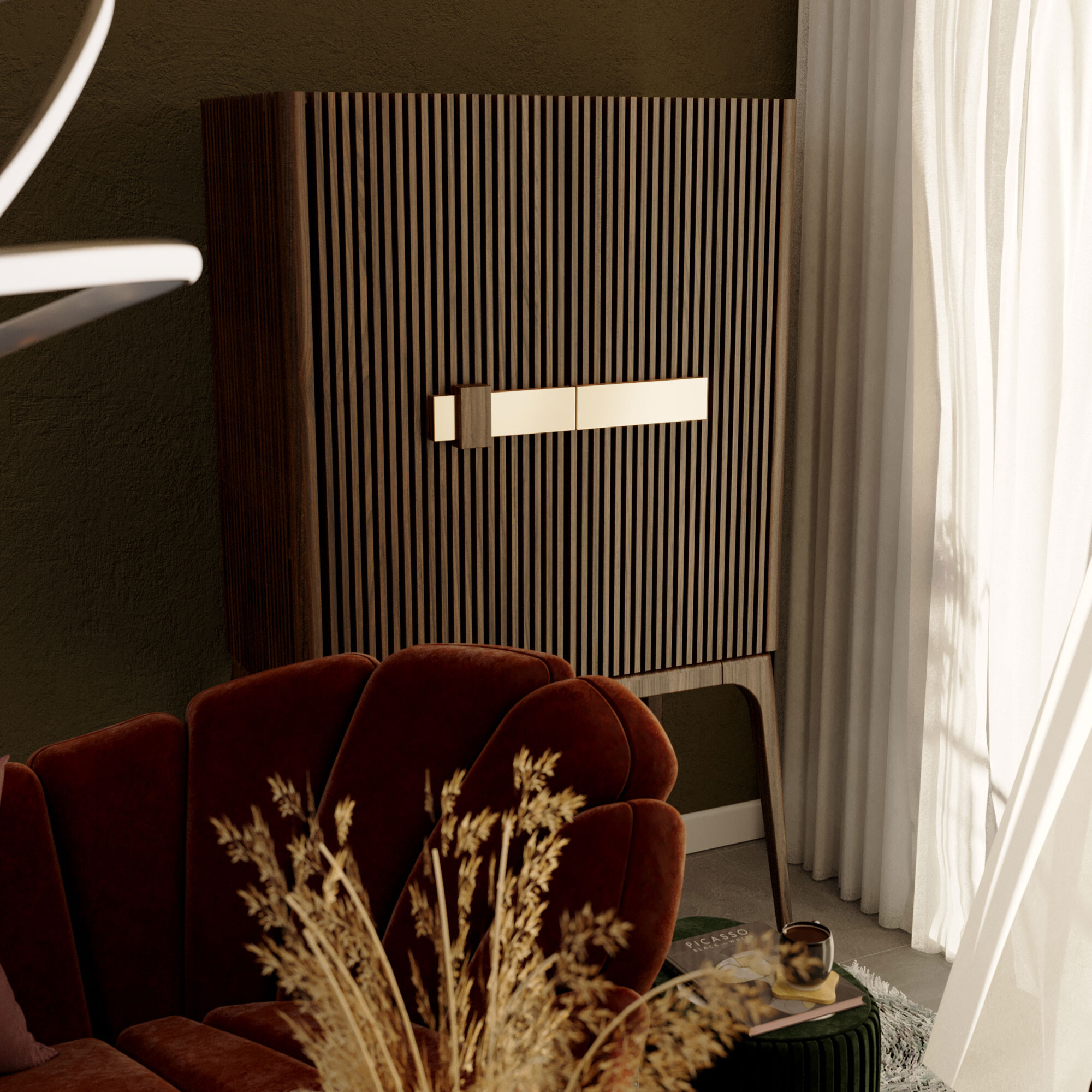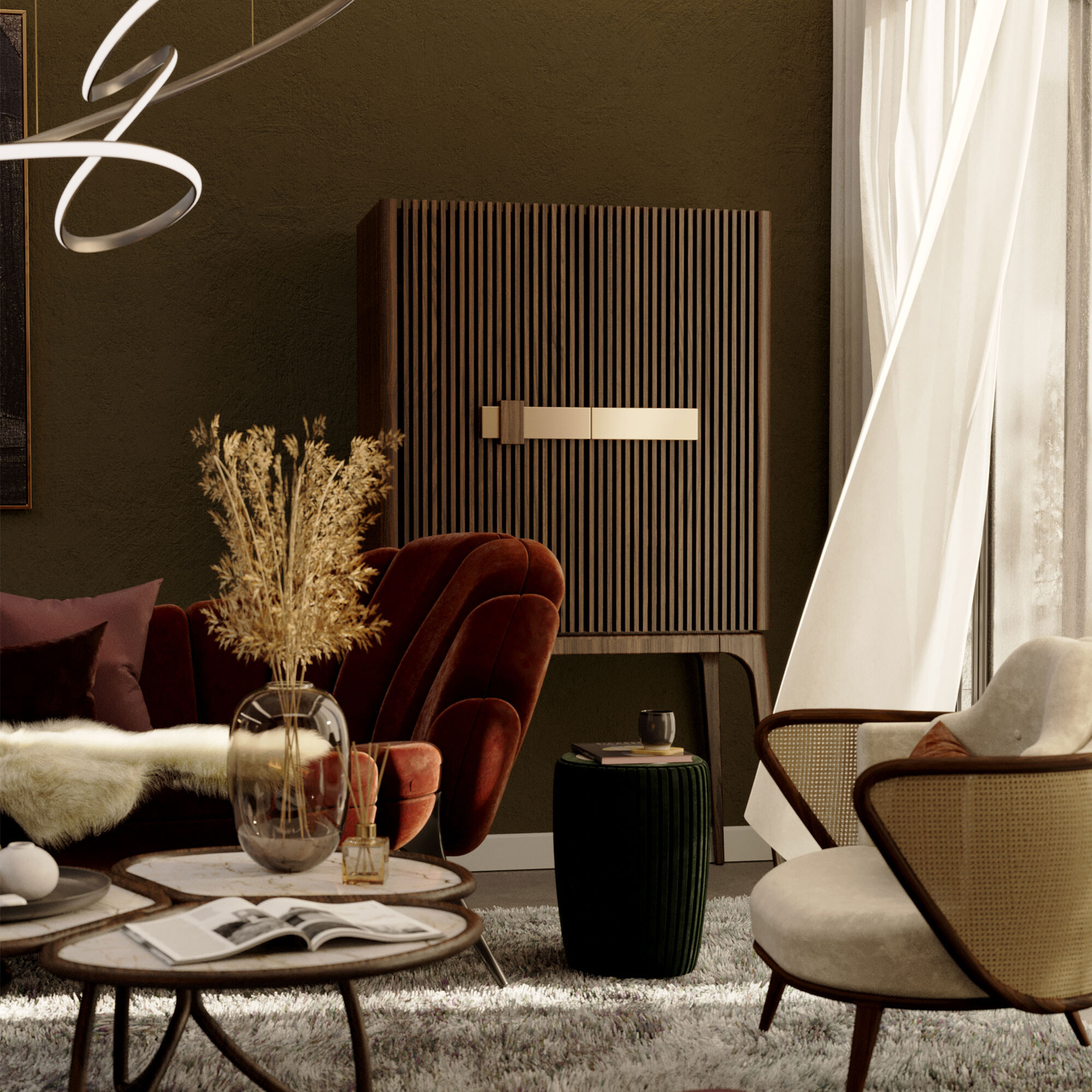 7. Modular furniture
Functionality and creativity define this type of piece. Modular furniture is the perfect choice for organizing spaces, especially smaller ones. Therefore, they are one of the solid interior design trends for 2023. Smart modular design is a formula that can make the construction process more efficient regarding resources and space maximization. Modular furniture can be easily assembled into various configurations and reassembled again because the designers designed it to be durable – and therefore sustainable.
Thanks to its flexibility, modular furniture is becoming increasingly popular for furnishing living spaces, offices, and objects. We see this trend in various situations: shelves and wall shelves, furniture used discreetly in hallways, or sofas, such as the modular sofa Mies from ALMA de LUCE.
Modular Sofas change the spaces, organize the rooms, and give a touch of irreverence and comfort to your project or home. Here, we will provide you with six advantages of having modular sofas in your living room or a specific project.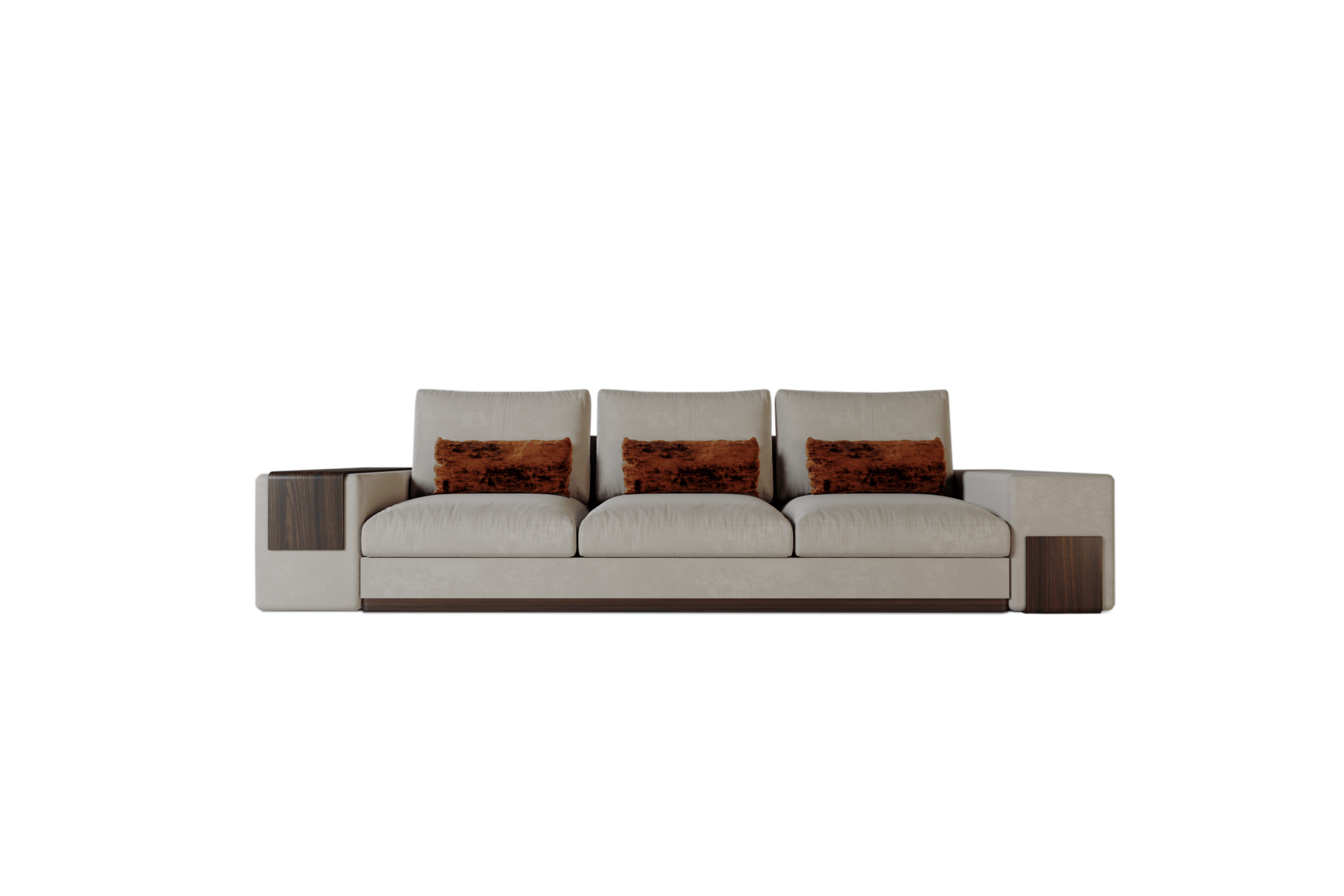 8. Cozy colors
In 2023 we will see interior design projects in which neutral and natural tones are the starting point for decoration. Comfort and warmth are also felt in the colors, with the use of a galactic blue or a digital lavender, both colors defined as a trend by WGSN.
See here how to use color psychology as your ally to define your architectural or interior projects.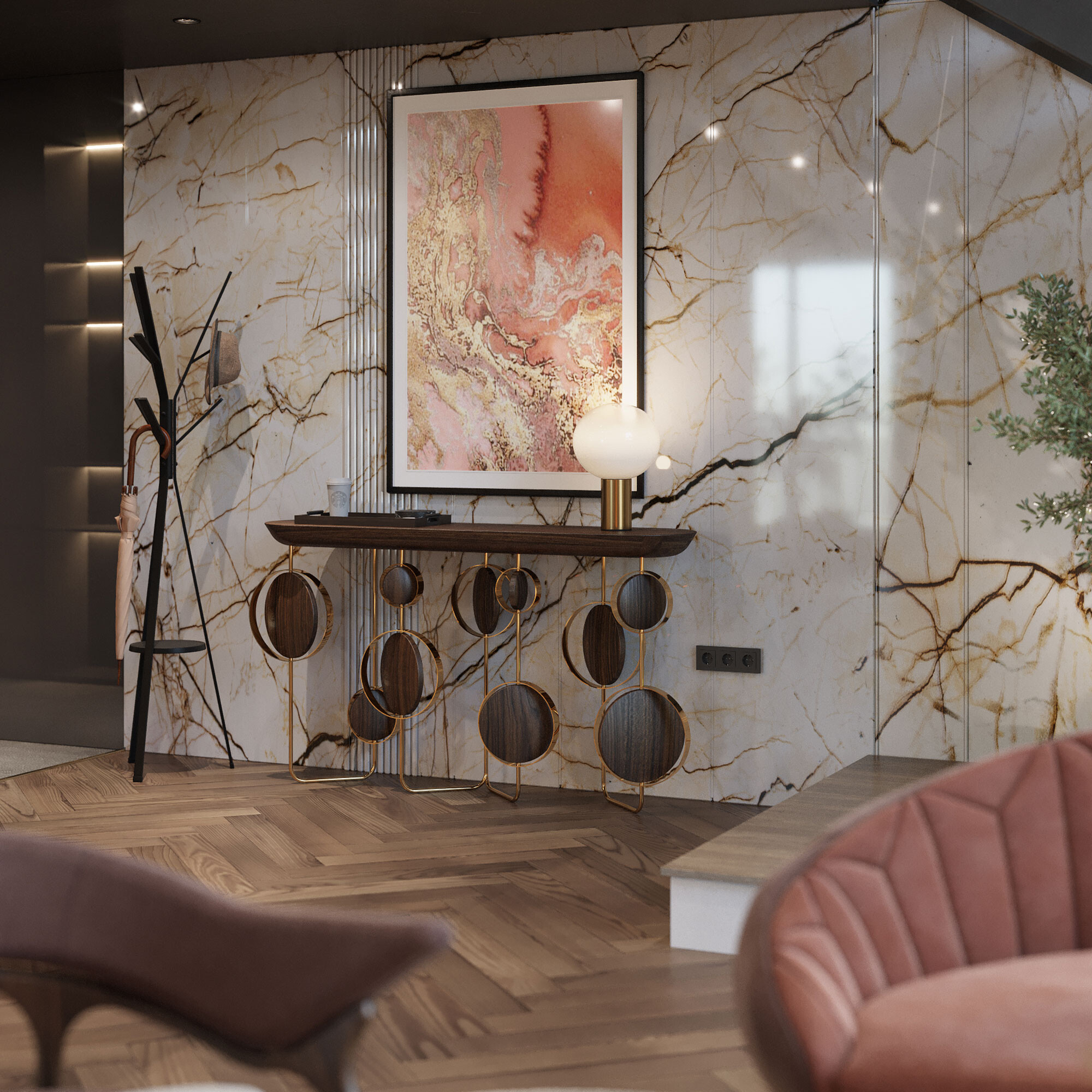 9. Lighting
Illuminated environments, in line with the enhancement of glass, are another major trend for 2023. In addition to large windows, glass doors, and projects prioritizing sunlight, enhancing natural and artificial lighting will also be a significant trend.
With illuminated environments, it is possible to guarantee safety, warmth, and well-being, which are increasingly valued. If, on the one hand, dramatic, oversized fixtures are replacing those designed to blend in or disappear completely, we also see nature-inspired elements that connect with nature.

10. Luxurious aesthetics
Luxury and luxurious aesthetics are the latest trends to be aware of before designing an interior design in 2023. The secret is in the details. We see the return of light tones, marble, dark wood, decorative pieces that stand out, overlapping textures, and references to nature. The result? Sophisticated, elegant, luxurious, and highly aesthetic environments are increasingly appreciated.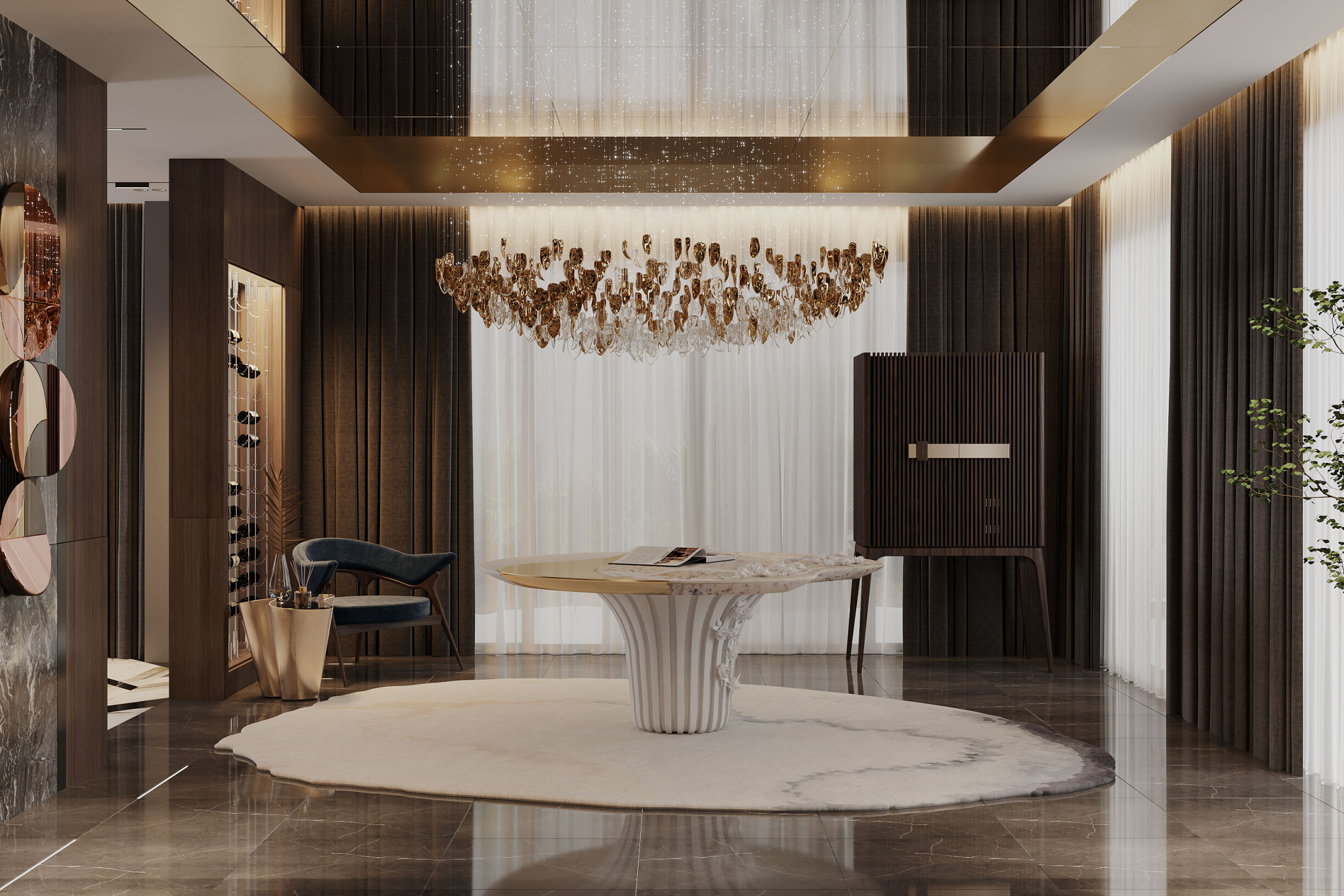 How to keep up with the trends?
Trends are characteristics that influence the products available on the market, consumer habits, and how you design ideas for your customers. Every new year or season, recent trends emerge, be it specific colors, materials, shapes, textures, patterns, combinations, or sensations. The big challenge is to keep up with all the trends. How? Here are three tips to make your job easier:
Follow brands and designers on social media


If you like the style of a particular brand or store, follow their profiles on social networks to be aware of their suggestions for product combinations. Thus, they will always be present in your feed and will inspire you a little each day. Do you like our style? Follow us on Instagram, Facebook, and Pinterest, and get inspired with us. 

Another excellent tip is to follow the social networks of famous interior designers, such as Karim Rashid, Marcel Wanders and Emily Henderson.
Keep up with interior design magazines.

Many printed and online publications dedicated to interior design share tips and content on trends. These are just some of the ones you can regularly see: Architectural Digest, House Beautiful and Ideal Home. 
Traveling, Researching, Sightseeing

Traveling the world is the best way to keep up with the latest trends. Discovering cultures and people, their tastes, how they live and socialize, and visiting local shops and restaurants are ways to be inspired and potentially incorporate new elements into your projects.

Trends are just the starting point!
We all like to keep abreast of news and trends. But these should be the starting point for creating something. So are you ready to tackle interior design trends in 2023? Which of the ten trends we present is your favorite, or was it a bigger surprise?

Also, stay tuned to our blog to receive more information and curiosities from the universe of architecture, interiors, and design!